Manos y Voces
Recursos en Espanol
"Lo que funciona para su niño es lo que
lo hace la elección correcta."
Ayuda y Apoyo de padres para 
los niños sordos y con dificultades auditivas
Padres Latinos:
Por favor visite y registrese en nuestro grupo de Facebook en Espanol!
(Latino Parents:  Please join our Hands & Voices Manos y Voces Facebook group, all in Spanish!)
Nuestra Misión:
Hands & Voices (Manos y Voces) está dedicada a ayudar a las familias con niños sordos o con dificultades auditivas, de manera imparcial respecto a modos o metodologías de comunicación. Somos una unión de padres, una organización sin fines de lucro que ayuda a las familias con los recursos, redes sociales, e información que necesitan para mejorar el acceso a la comunicación y elevar los resultados educacionales para sus niños.  Nuestras actividades de extensión, la colaboración padres / profesionales, y los esfuerzos de apoyo y soporte están concentrados en posibilitar que los niños Sordos y con Dificultades Auditivas alcancen su potencial máximo.
Que dice la gente sobre Hands & Voices
"Donde estaban todo este tiempo, los estaba esperando" "Where have you
been, been waiting on a program like yours"
"Dios los bendiga por todo lo que hacen por nosotros y nuestros hijos
sordos" "May God bless you for all you do for us and our deaf children"
"Hand & Voices apoyó mi decisión personal sobre mi hijo y como él puede aprender a comunicarse con el mundo siendo una  persona sorda. Hand & Voices no juzgó, sino apoyó mi elección."
"Hand & Voices es lo que nuestro estado ha estado esperando. Yo recibí numerosos pedidos de información especifica, lo cual me mantuvo en una búsqueda incesante por información y recursos apropiados. Hand & Voices fue donde los encontré."
"Por  mucho tiempo hemos debatido qué modo de comunicación es el mejor, en lugar de trabajar para proporcionar la variedad de opciones requeridas para satisfacer las distintas necesidades de niños sordos o con dificultades auditivas. La amplia visión de Hand & Voices llega exactamente en el momento indicado."
New Resources
Lista De Deseos De Los Padres Para Audiólogos
Mi Camino No Tan Bien Establecido
Mirando Hacia Atrás: La Perspectiva de un Profesional
Profesionales En La Vida De Nuestros Hijos: Lo Que Los Padres Esperan
Rompiendo Las Noticias: Inicio Tardío o Pérdida Auditiva Progresiva
Solicitud de Beneficios Para Niños con Discapacidades
Todos podemos ayudar a los niños sordos a aprender a convivir
Estamos felices de compartir estos recursos con usted y esperamos que los encuentre de utilidad
---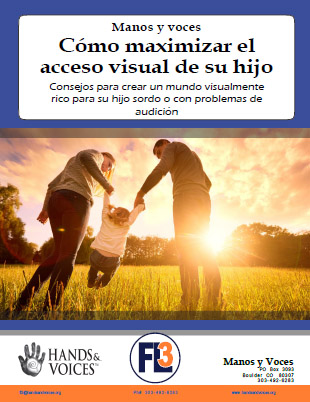 Cómo maximizar el acceso visual de su hijo
Consejos para crear un mundo visualmente ricopara su hijo sordo o con problemas de audición
[ Download ]
---
Para familias que tienen niños con pérdida auditiva y otras discapacidades/necesidades especiales (click aqui)
---
Links:
Sordera y la Pérdida de la Capacidad Auditiva www.parentcenterhub.org/repository/auditiva/
Los Santos Chavez –
(contribución de: http://www.azhv.org/family-stories/ )
La historia de Erik
https://www.mnhandsandvoices.org/first-stop/parent-stories/eriks-story
Parent Roadmap in Spanish - Evaluación, diagnóstico e intervención universal de la audición de recién nacidos Información acerca de la pérdida de audición -- una guía para las familias
www.infanthearing.org/documents/parent-roadmap-spanish.pdf

Just in Time Tool,"Justo a Tiempo" Guía de Recursos de la Deficiencia Auditiva Para Familias
www.infanthearing.org/familysupport/JustInTime_Spanish.pdf
Que se abran las puertas: Opciones de tecnología y comunicación para los hijos con pérdida auditiva.
http://www2.ed.gov/about/offices/list/osers/products/
opening_doors/que_se_abran_las_puertas.pdf
Links A Videos En Español Y/O Con doblaje en Español
(How well can your child hear? What parents need to know)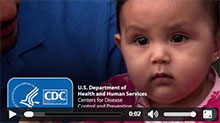 Familias latinas describen sus experiencias de la vida real cuando recibieron los resultados de "no aprobó" o "remitir" en las pruebas de audición de sus bebés. En este video en español adaptado culturalmente cuentan cómo se sintieron cuando les dieron los resultados y lo que hicieron después. Sus historias proporcionan datos y motivación para ayudar a los padres a buscar los servicios de seguimiento que sus bebés necesitan.
This Video features Spanish-speaking families describing their experiences when they received "did not pass" or "refer" results for their babies' hearing screening. The families describe how they felt and what they did next. Their stories provide facts and encouragement to help other parents seek out the follow-up services their baby needs.
Comment from H&V about this video:
"I think this video is best to be seen alongside someone who can help answer questions. For new parents, I wouldn't point them to it and leave them alone with their thoughts. A Parent Guide or a professional may want to be there with them to sort of debrief what they saw and how they feel. It's packed with really good information for Latino parents.
…For new parents, the first 6 minutes are very informative about the follow up tests, talking with your doctor about the results and checking for other health risks, and how to go about getting a second test. At the end of the six minutes it says that early intervention is important for the kids to achieve their highest potential. Ending it right there may be more objective and positive at that stage when parents are just finding out what is going on. I think it would be a good point to stop the video and chat with the parents about what they understood and any questions they have and make sure the positive points sink in. Then, maybe continue watching the rest. So I would show the video while sitting next to them and having a chance to stop it and chat. For parents who already have confirmation of hearing loss and are farther along in the process, they might be more interested in the last part of the video."
--Judith Cavazos-Beal
---
www.echominnesota.org/es/library/does-my-child-have-hearing-loss
---
Materiales gratuitos: Solicitar Materiales- CDC tiene folletos gratuitos, carteles, hojas informativas, y más para los padres, los profesionales de la salud y profesionales de salud pública.
http://www.cdc.gov/ncbddd/hearingloss/freematerials.html
Videoconferencias de Manos y Voces:
Próximamente!!
Videoconferencias de otras fuentes:
¿OYE BIEN MI HIJO? Bebés y niños con sordera o pérdida de audición.