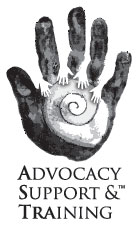 The Hands & Voices Advocacy, Support,
and Training (ASTra)Program
ASTra is a replicable Deaf and Hard of Hearing Educational Advocacy Program that embodies the mission and vision of Hands & Voices, which is to provide support to families with children who are deaf or hard of hearing (D/HH) without a bias around communication mode, method, and educational setting so that every child who is D/HH has the opportunity to achieve their full potential. ASTra content is derived from years of direct advocacy experience working with families in schools, attending advocacy trainings from legal experts, providing trainings, and the Hands & Voices Educational Advocacy Guidebook (©2013).
ASTra can be implemented by a Hands & Voices Chapter independently or in collaboration with an agency or program partner. An agency or program partner can instigate the start-up of an ASTra Program only through the local Hands & Voices Chapter in accordance with the operational procedures of this program. .
On this page are links to lots of resources and information about ASTra, including materials that are available by password-only access to Hands & Voices chapters who have an ASTra program or are in the start-up process.
Questions? E-mail us at astra@handsandvoices.org
A video introduction to the ASTra Program
An introduction to the ASTra program video-taped at a recent ASTra training event in Oregon. Thanks to Ana Brooks and Hands & Voices of Oregon for putting this video together.
Read what people are saying about the H&V ASTra Program
All the documents a Chapter will need to start and maintain an ASTra Program. **ASTra personnel only.
Hands & Voices Educational Advocacy Support to Families

Many families struggle in their attempts to improve educational programs for their children, and the support they find is usually not experienced with the unique issues facing deaf or hard of hearing kids. Hands & Voices is often asked to provide educational advocacy support to families (and professionals) who have questions about special education law and its applicability to students who are deaf or hard of hearing.
In our H&V chapters, it's not at all uncommon to find an H&V trained advocate supporting a family who is struggling with their child's educational services and communication access. H&V chapters can provide families with advocacy resources, support, and in some cases, attend an IEP meeting with a family. View our chapter listings to see if this service is available in your area. While we're not attorneys, and we can't give legal advice, we do feel strongly that experienced parents can be great assets to other families new to educational advocacy.
Advocacy Tools and Products
The following documents and links are also referenced in the H&V Advocacy Guidebook and can be found here:
The Hands & Voices Guidebook
Educational Advocacy For Students
Who are Deaf or Hard of Hearing:

"PURCHASE BOOK HERE"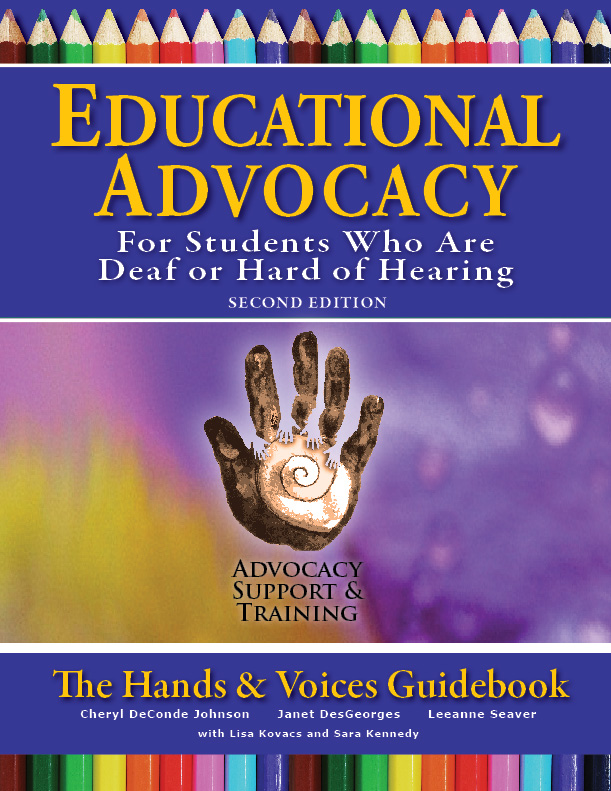 Hands & Voices Engaging in Your Child's Education at Home - Now more than ever, parents need practical tips for supporting their child's learning at home Download pdf
Developmental Milestones – Understanding and Using Developmental Milestone Checklists https://handsandvoices.org/
Socialization Skills for Deaf and Hard of Hearing Children - Ways of approaching socialization and social skills training - A. Marwah Socialization Webinar - video
Advocacy 101 - Learning to be your child's special education advocate. Hands & Voices Advocacy 101 Webinar - video
ASTra Advocacy Request Form - Download MS Word doc file.
Comparison of Pertinent Areas of IDEA, Part B, 504, & ADA* (Appendix C from Astra Guidebook pg 169)
http://handsandvoices.org/astra/docs/appendix-C.pdf

D/HH Student Self-Advocacy Inventory *
www.handsandvoices.org/pdf/SAIInventory.pdf
Functional Listening Evaluation
www.handsandvoices.org/pdf/func_eval.pdf
General Provisions of IDEA Part C and B* (Appendix B from Astra Guidebook pg 163)
http://handsandvoices.org/astra/docs/appendix-B.pdf
IEP Meeting Planner*
www.handsandvoices.org/IEPmeetingplanner/
IEP/504 Checklist www.handsandvoices.org/pdf/IEP_Checklist.pdf
IEP Communication Plans (samples)*
IFSP Communication Plan
www.cdc.gov/ncbddd/hearingloss/
freematerials/planforyourchild.pdf
Preschool/Kindergarten Parent Placement Checklist for Children who are Deaf and Hard of Hearing: https://www.handsandvoices.org/pdf/parent_checklist.pdf
Placement And Readiness Checklists (PARC)
- PARC Readiness Checklists
- PARC Placement Checklists
P.E.I. "Parent Education Initiative" * Download PEI form as a printable pdf.
Safety Attachment Plan www.handsandvoices.org/resources/
OUR/SafetyAttachmentPlanTemplate_v1-1.pdf
Transition to Pre-School (Bridging to Pre-School Colorado Sample)* www.cohandsandvoices.org/docs/Bridge-Revised2012.pdf
IDEA 2004 Key Regulations Pertaining to Audiology and Deaf Ed* http://www.handsandvoices.org/idea04regs/index.htm
FAQ's on Effective Communication for Students with Hearing, Vision, or Speech Disabilities in Public Elementary and Secondary Education - Download the official FAQ's in pdf form
US Department of Justice and US Department of Education Guidance Document – Meeting the Communication Needs of Students with Hearing, Vision, and Speech Disabilities
GAP Planning (Phonak) - Phonak GAP Learning Guide
A Resource for Self-Advocacy Activities
For teens & young adults, teachers, hearing healthcare professionals and parents
Common Assessments for D/HH Students - Download Common Assessments in PDf format
Educational Plan Checklist for D/HH-Plus Students - Download Checklist in PDf format
White Paper: Estimating the Level of Communication Effectiveness/Access www.successforkidswithhearingloss.com
ADA Effective Communication Checklist A Discussion Guide for Implementing Effective Communication Practices
Education Audiology Association (EAA) Shared and Suggested Roles of Educational Audiologist, Teachers of the Deaf, and Speech-Language Pathologists – Supports to be considered for each student who is deaf or hard of hearing
Advocacy Tools and Products in Spanish
ARTICLES
Learning Modules and Advocacy Links
The Promise Act - Protecting the Rights of Military Children in Special Education. Advocating for Military Families with Exceptional Needs.
60 Second Leadership & Advocacy Tips