The H&V Advisory Council for Latino Family Support
Recognizing that a significant number of families across Hands & Voices (H&V) Chapters and Programs use Spanish as a first language, we at H&V are motivated to expand already existing efforts in local Chapters as well as at H&V HQ, through the H&V Advisory Council with the purposes of: pooling resources, providing thought leadership, and formalizing support for innovation around supporting families who are Spanish speaking. The H&V HQ Advisory Council for Latino Family Support provides an opportunity for Latino self-determination and leadership in Latino support.  The H&V HQ Community for Latino Family Support is an important think tank to support the Advisory Council by drawing upon broad-based input from a wide range of interested participants who serve Latino families. for more information about this project, please email janet@handsandvoices.org
Join our quarterly Community Forum meetings:
Meet our Advisory Council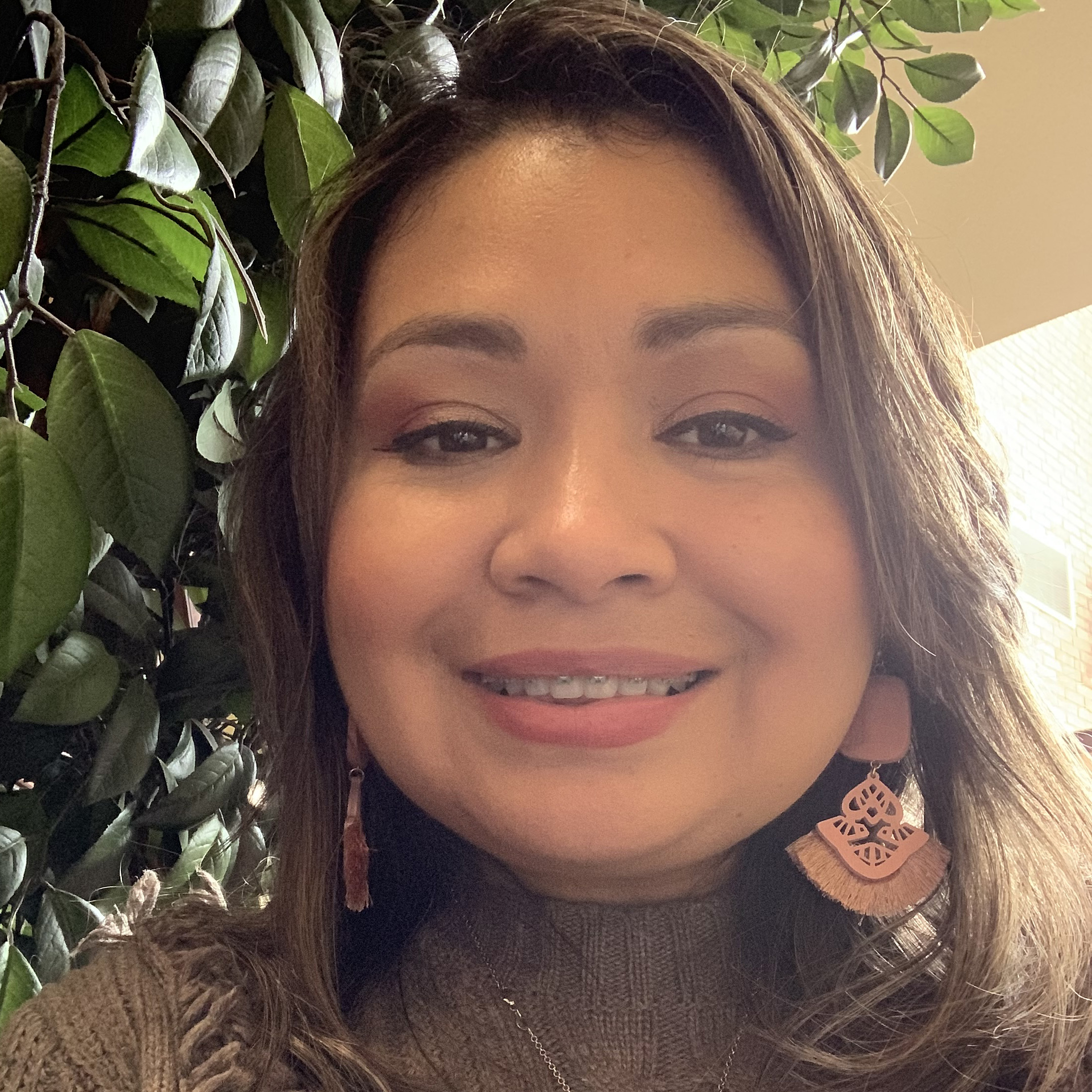 Yuliana Trujillo
My name is Yuliana Trujillo, I am a Spanish Parent Guide and the Follow Through Guide Coordinator. My family and I reside in Wichita Falls, Texas. My husband and I have 3 beautiful daughters, Yanin who is 17 years old, she is a straight A student. Alexis 13 who is a sport lover, and little Alyssa 3.5 years old who has a happy and goofy personality. I learned about Texas Hands & Voices through my daughter's Deaf Ed teacher, she said due to my highly involvement in advocating for D/HH kiddos and for being heavily invested in Yanin's education and that I belonged in the TXHV program. There was a job opening for a Parent Guide, I applied and got the job. I am proud to say I have been with Texas Hands & Voices for close to 9 years now. Over 6 years ago I became a Follow Through Guide with a Pilot Program, we are now in Cycle 7 of the program, I was recently promoted as a FTG Coordinator. Yanin has bilateral sensorineural hearing loss. She was diagnosed at the age of 1 and has bilateral cochlear implants. She is a Junior now in High School and is currently preparing to take AST's. She is a cosmetology student and enjoys messing with our hair.
En espanol
Mi nombre es Yuliana Trujillo, soy Guía bilingüe y Guia de seguimiento con Manos & Voces de Texas. Mi familia y yo vivimos en Wichita Falls Tx. Mi esposo y yo tenemos tres hermosas hijas. Yanin tiene 17 años, es una niña con altas calificaciones escolares. Alexis tiene 13 años y es una amante del deporte, y la pequeña Alyssa de tres años y medio con la personalidad más graciosa y tierna que te puedes imaginar. Yo aprendí del programa de Manos Y Voces de Texas por medio de la maestra de educación especial de Yanin. Ella me informó que había una posición abierta para un Padre Guía, y me animo debido a lo envuelta y dedicada que estaba yo con la educación de mi hija. Esta maestra dijo que ahí es donde yo pertenecía, ayudando a otros papas como yo. ¡Llene la solicitud y el resto es historia! Me enorgullece decir que he estado con Manos & Voces por ya casi 9 años. Hace 6 años fui participe del inicio del Programa Piloto Follow Through Guide, ya vamos en el Ciclo 7, y recientemente recibí la promoción de Coordinadora del mismo programa. Mi hija Yanin tiene hipoacusia neurosensorial en los dos oídos, su diagnóstico fue tardío a la edad de un año. Ella usa implantes cocleares en los dos oídos. Ahorita está en el grado 11 de la preparatoria y se está preparando para tomar los SAT's. También es una estudiante de cosmetología, y encanta arreglarnos el pelo.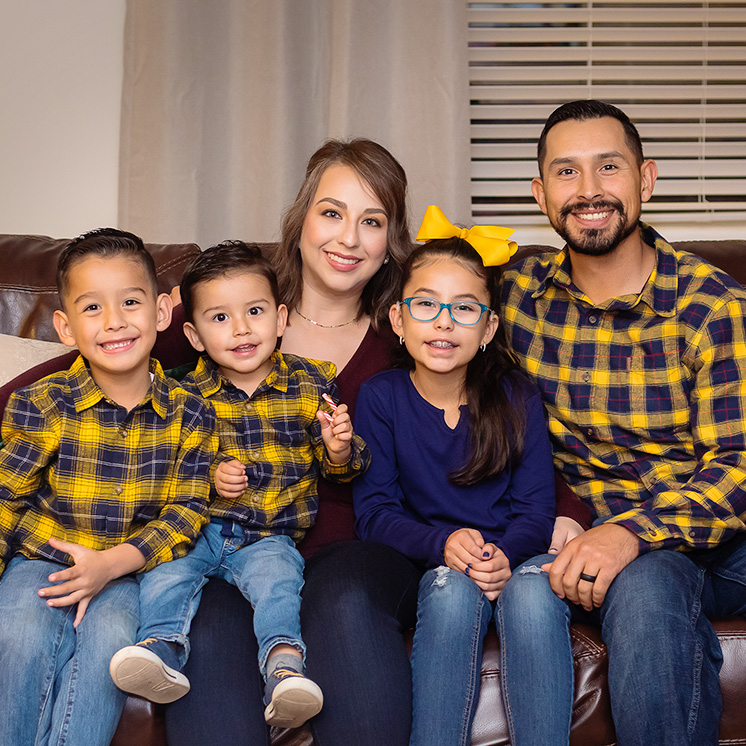 Toni Vega
Our journey started in 2009 with the birth of our daughter, Isabella. At birth, Isabella failed her hearing screening and since then we have been on this journey. Now, our family of 5 includes myself, my husband Nathan, Isabella, and our two boys, Roman (5) and Nathanael (2) who are both hearing. Isabella is deaf and what we call a total communication kiddo. Bilaterally implanted, she uses her voice when she chooses but considers American Sign Language to be her primary mode of communication. Over the years, she has learned to advocate for herself and her communication preferences. Our family has learned, and continues to learn, sign language to communicate with her. Isabella attends a dual enrollment program here in Tucson and is happy and thriving. She also plays sports and participates in the deaf community at ASDB.I joined Hands & Voices with the desire to support parents - especially Spanish-speaking families. My family believes every child is unique and so are their needs. Meeting and interacting with other families like mine is a blessing and a huge support.
En Espanol
Nuestra historia empezó en el año 2009 con el nacimiento de nuestra hija Isabella. Al nacer, Isabella fue diagnosticada con una pérdida auditiva en los dos oídos. Desde ese día, todo cambio. Mi familia de 5 incluye a Isabella, a mi esposo Nathan, a Roman (5) y a Nathanael (2), los dos con audición normal. Isabella tiene y usa dos implantes para oír. Ella habla cuando quiere, pero utiliza el Lenguaje de Señas Americano más que nada. Con el tiempo Isa ha crecido, y ahora sabe lo que funciona mejor para ella. Nuestra familia usa y sigue aprendiendo el Lenguaje de Señas Americano para comunicarnos más efectivamente con ella. Isabella está en una escuela de integración de clases generales donde está feliz y saliendo adelante increíblemente. Incluso, participa en un programa de deportes de la comunidad sorda en Tucson. Cuando empecé a trabajar con Manos y Voces de Arizona, mi deseo era apoyar a las familias de nuestra comunidad, especialmente a las familias hispanas. Yo creo que todos los niños son diferentes y requieren recursos personalizados. La habilidad de conocer a otras familias con hijo/hijas con pérdida auditiva es un gran recurso para apoyar a nuestros hijos en su vida y crecimiento. Este tipo de apoyo es único.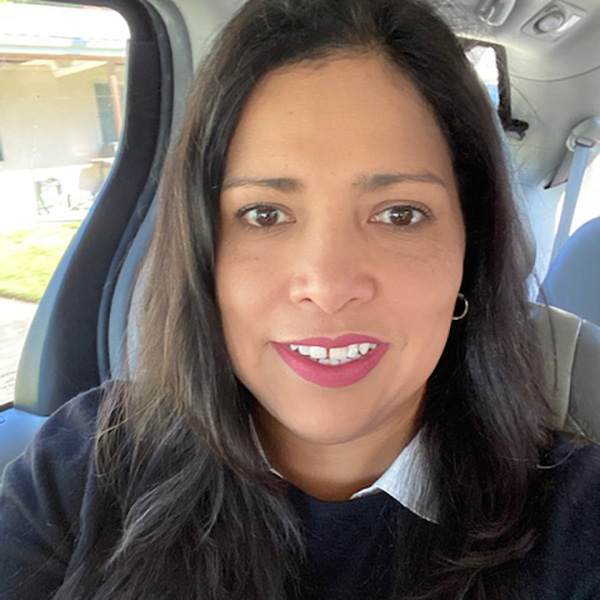 Marbely Barahona
My name is Marbely Barahona. I am originally from Caracas-Venezuela and have lived in New Orleans for the past 23 years. I am married to Asahel Barahona, and we are parents of 6 children, 2 girls and 4 boys. Our oldest son is profoundly deaf and received a cochlear implant at the age of 5. He was fully mainstreamed in regular education classes at his home district school, graduated high school in 2018, and took 2 sabbatical years to serve a mission for his church. I am a board member of LA Hands & Voices; I am also a Guide by Your Side Bilingual Parent Guide. I am a member of the Louisiana Advisory Council for the Early Identification of infants with on which I sit as a parent of an oral deaf child. I have participated in several collaborative teams through the years; in 2011-12, I participated in the NICHQ IHSIS collaboration, serving as my state team's Parent Consultant where I became experienced in using the Model for Improvement. My leadership role on the team as a parent was a wonderful opportunity to influence and share advice to the team about a wide range of needs for change in the EHDI system. I actively participated in planning, implementing, and evaluating Plan-Do-Study-Act (PDSA) cycles to help my state successfully reduce "loss to follow-up". I work part-time for the LA EHDI Program as a Bilingual Parent Consultant, helping Spanish-speaking families navigate the EHDI process. In addition, one of my responsibilities in this position is to contact all families of babies reported "lost to follow-up" to support and assist them in obtaining needed services and maintain tracking data of the results. With Louisiana Hands & Voices Guide by Your Side program, I am the only bilingual Guide in my state, which allows me to serve my community from the very big cities to the small rural towns of the state. Working with Latino families is my calling. I feel that we can get better results when families are informed, educated, and take full responsibility for their children's journey. For the past 10 years, I have dedicated my career and my life to do that. After supporting and assisting families, it is most rewarding to me to see families that I serve become independent, self-sufficient, and empowered to influence their children's future. Ultimately, that is my goal!
En Espanol
Mi nombre es Marbely Barahona. Soy originaria de Caracas-Venezuela y he vivido en Nueva Orleans durante los últimos 23 años. Estoy casada con Asahel Barahona y somos padres de 6 hijos, 2 niñas y 4 niños. Nuestro hijo mayor es sordo y recibió un implante coclear a la edad de 5 años. Se incorporó por completo en las clases de educación regular en la escuela de su distrito, se graduó de la escuela secundaria en el 2018 y tomó 2 años sabáticos para servir en una misión para su iglesia. Soy miembro de la junta directiva de Manos y Voces de Louisiana y también soy una madre Guía para el programa de Una Guía a su Lado de Manos y Voces. Soy miembro del Consejo Asesor para Sordos de Louisiana en el que funciono como madre de un niño con implante coclear. He participado en varios equipos de colaboración a lo largo de los años; en 2011-12, participé en la colaboración NICHQ IHSIS, sirviendo como Consultora de Padres a mi equipo estatal donde adquirí experiencia en el uso del Modelo para Mejorar. Mi liderazgo en el equipo como madre fue una oportunidad maravillosa para influir y compartir consejos con el equipo sobre una amplia gama de necesidades de cambio en el sistema EHDI. Participé activamente en la planificación, implementación y evaluación de los ciclos Planear-Hacer-Estudiar y Actuar (PDSA) por sus siglas en inglés, para ayudar a mi estado a reducir con éxito los casos perdidos. Trabajo a tiempo parcial para el Programa LA EHDI como Consultora Bilingüe, ayudando a las familias de habla hispana a navegar el proceso EHDI. Además, una de mis responsabilidades en esta posición es contactar a todas las familias de bebés que se informaron "perdidos durante el seguimiento" para apoyarlos y ayudarlos a obtener los soy la servicios necesarios y mantener datos de seguimiento de los resultados. Como Una Guía a su Lado, única guía bilingüe en mi estado, lo que me permite servir a mi comunidad desde las ciudades más grandes hasta los pequeños pueblos rurales del estado. Trabajar con familias latinas es mi vocación. Siento que podemos obtener mejores resultados cuando las familias están informadas, educadas y asumen toda la responsabilidad del proceso de salud de sus hijos. Durante los últimos 10 años, he dedicado mi carrera y mi vida a hacer eso. No hay nada más gratificante para mí que después de un período de apoyo y asistencia, ver a las familias a las que sirvo ser independientes, autosuficientes y asumiendo la responsabilidad del futuro de sus hijos. ¡En definitiva, ese es mi objetivo!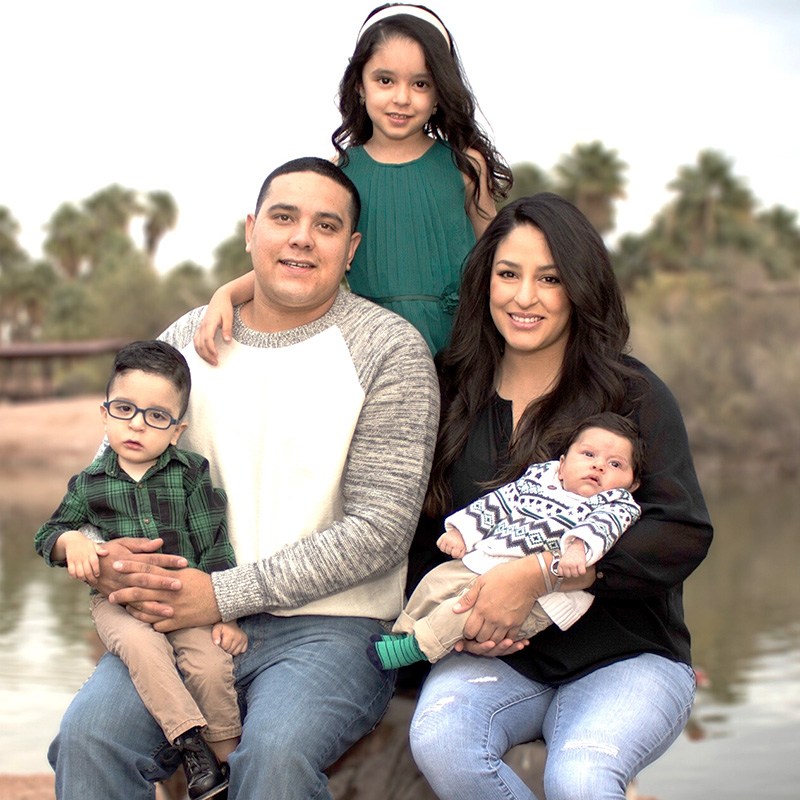 Liliana Herrera
I am a mom of three, Sofia, Yovani and Jonathan. Sofia and Jonathan are both hearing. Yovani is Hard of Hearing Plus, which means he has multiple challenges. He has late-onset hearing loss. At 18 months, he was diagnosed with ZTTK Syndrome, a rare genetic disorder. When he was 2, he had surgery for his third set of ear tubes and a sedated ABR. It was there that he was diagnosed with a hearing loss. He wears hearing aids and has miraculously kept them on since day one – I've been told that's not always the case. Yovani attends a developmental preschool, which has helped him progress so much developmentally and socially. His teacher wears an FM system and we use one at home as well. He is a little guy full of life that loves to play with his sister and brother. I am still learning what it means to be on this journey and I continually see how my son has inspired me to have a new understating of life. I became a parent guide to provide support to families and let them know that even though our paths might be different, they frequently cross each other. Being able to meet new families and gain new friendships and perspectives along the way has been priceless.
En Espanol
Soy madre de tres niños, Sofia, Yovani y Jonathan. Sofia y Jonathan escuchan bien. Yovani tiene pérdida auditiva y también otras necesidades especiales. Él tiene pérdida de audición de inicio tardío. A los 18 meses de edad, fue diagnosticado con Sindroma ZTTK que es un trastorno genético. Cuando tenía dos años, tuvo cirugía para su tercer par de tubos auditivos y un ABR sedado. Fue ahí donde fue diagnosticado con pérdida de audición bilateral. Usa aparatos auditivos y milagrosamente se los a dejado puestos desde el primer día, me han dicho que no es siempre el caso. Yovani va a un preescolar de desarrollo que le ha ayudado a progresar tanto en su desarrollo y social. Su maestra usa un sistema FM y nosotros también usamos uno en casa. Es un niño lleno de vida que le encanta a jugar con su hermana y hermano. Todavía estoy aprendiendo lo que significa estar en esta jornada y continuamente veo como mi hijo me ha inspirado a tener una nueva comprensión de la vida. Me convertí en un guía para padres para brindar apoyo a las familias y hacerles saber que, aunque nuestros caminos puedan ser diferentes, se cruzan con frecuencia. Poder conocer nuevas familias y ganar nuevas amistades y perspectivas en el camino no tiene precio.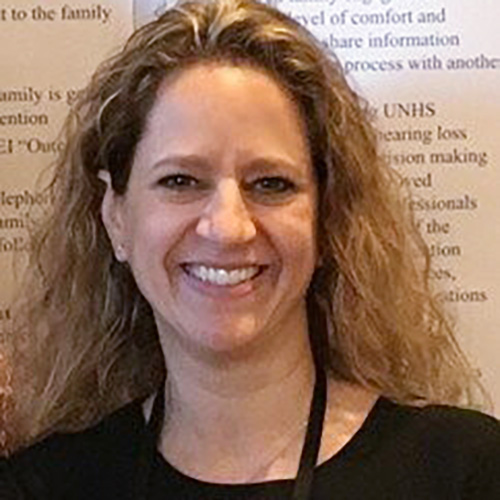 Mariana Barquet
Mariana has served the Hispanic community as their Parent Guide (Statewide) since 2015 and has followed children from identification through procurement of services and placement in the school system. She was born and raised in Mexico City and moved to the US when she was 28. She has lived in Virginia, Florida and Indiana. Mariana is the proud mother of two children, her youngest was born profoundly deaf. The family lives in the Indianapolis area and enjoys the warm hospitality of the Midwest. She currently serves on the EHDI State Advisory Committee and has presented several times at the EHDI National Conference and the Hands & Voices National Conference. Aside from her family, she is most passionate about ensuring that every Hispanic child with hearing loss in Indiana has access to and receives qualified services to meet their needs and achieves successful outcomes. "Every DHH child deserves the absolute best outcomes that our system and support can provide, our GBYS and ASTra programs are here to make that a reality."
Mariana is the Indiana Guide By Your Side Program Coordinator, ASTra Program Coordinator and Indiana Hands and Voices, Treasurer
En Espanol
Mariana ha trabajado con la comunidad Hispana como su Guía de Padres (cubriendo todo el Estado) desde 2015 y ha apoyado a las familias desde el momento de la identificación hasta la etapa educativa incluyendo los servicios y plantel escolar. Nacida en la Ciudad de México, vivió ahí hasta los 28 años cuando se mudó a los Estados Unidos. Ha vivido en los estados de Virginia, Florida e Indiana. Mariana es la orgullosa madre de dos niños, el más pequeño nacido con pérdida auditiva profunda bilateral. Vive con su familia en la ciudad de Indianápolis donde se siente muy a gusto con la hospitalidad de la gente del centro del país. Actualmente contribuye con el Comité Estatal de EHDI (Programa de Detección e Intervención Temprana para la Audición, por sus siglas en Inglés) y ha presentado varias veces en las conferencia nacionales de EHDI y de la organización Manos y Voces. Aparte de disfrutar a su familia, su gran pasión es el asegurarse que todo niño Hispano en el estado de Indiana que tiene pérdida auditiva reciba servicios de calidad para apoyarlos en las necesidades que presentan para así lograr sus metas. "Todo niño con pérdida auditiva se merece el mejor futuro que podemos proveer a través del sistema médico y educativo, nuestros Programas de Guía de Padres y Defensa de Derechos Educativos apoyan a los Padres para que esto se vuelva realidad."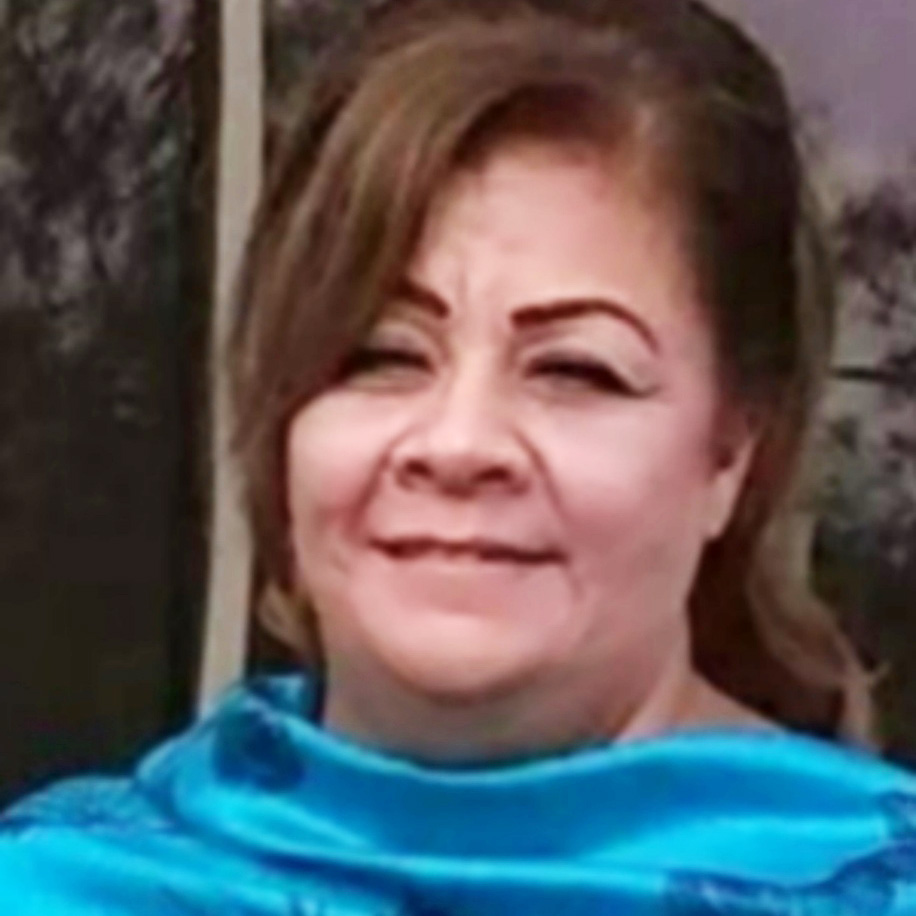 Terry Myers
My name is Terry Myers, we live in San Elizario, Texas. We are a family of 4, husband David, son David Jr and My son Mark is profoundly deaf. He was diagnosed until 6 1/2 years of age. When we found out that he was deaf, we started using sign language. Our son never had a newborn screening test. He had other medical complications, kidney problems, ECMO, water in the lungs, and also meconium aspiration. He weighed over 11 pounds, which is what helped him to fight for his life. Now 24 years old. At home we speak Spanish, English and Sign Language, my parents are Mexican. He had a newborn screening test. With many challenges in life we are here today.
En Espanol
Mi nombre es Terry Myers, vivimos en San Elizario, Texas. Somos una familia de 4, esposo David, hijo David Jr y mi hijo Mark es profundamente sordo. Fue diagnosticado hasta los 6 1/2 años de edad. Cuando descubrimos que era sordo, comenzamos a usar el lenguaje de señas. Nuestro hijo nunca tuvo una prueba de detección para recién nacidos. Tuvo otras complicaciones médicas, problemas renales, ECMO, agua en los pulmones y también aspiración de meconio. Pesaba más de 11 libras, que es lo que lo ayudó a luchar por su vida. Ahora tiene 24 años. En casa hablamos español, inglés y lenguaje de señas, mis padres son mexicanos. Con muchos desafíos en la vida, estamos aquí hoy.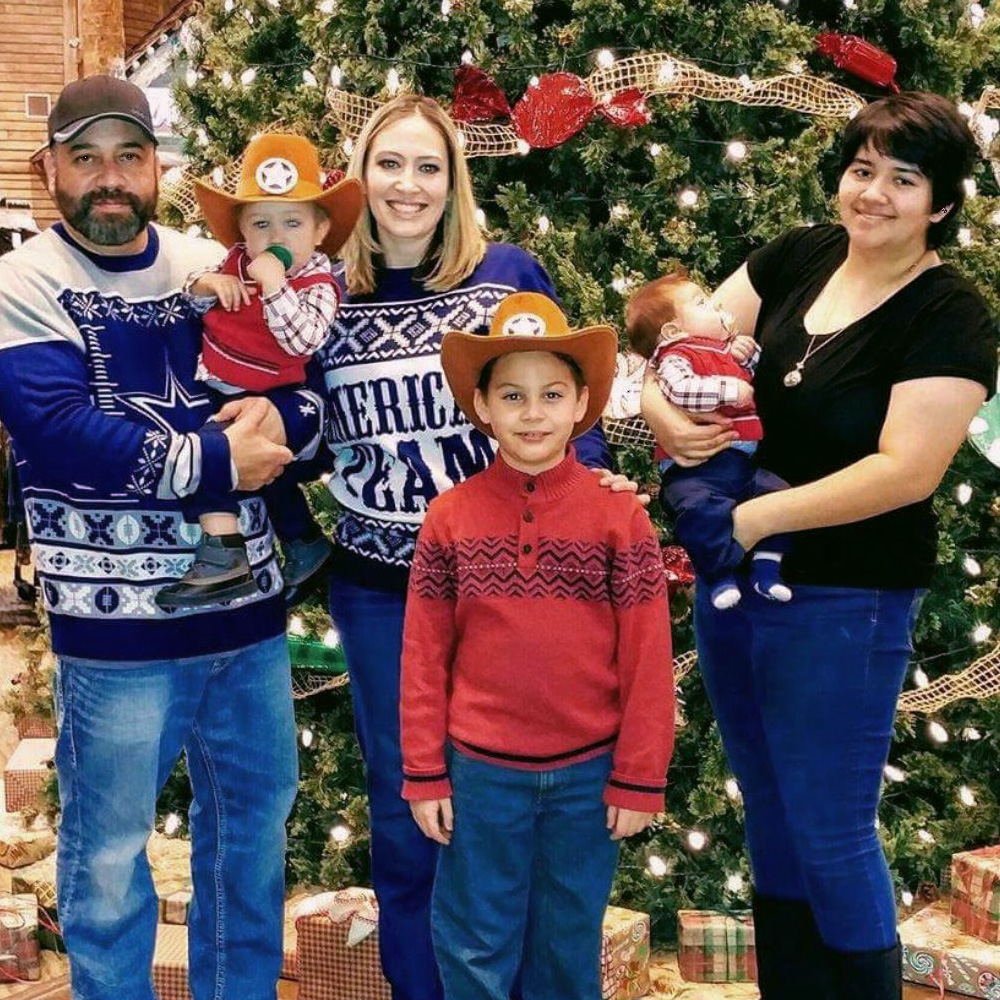 Gabby Meza
We are a blended family comprised of my husband Enrique, myself and our 7 children (our oldest three daughters residing in Minnesota). Our youngest is our 3 year old Juanito, born with bilateral profound deafness. Further testing confirming the diagnosis of Usher's Syndrome 1f, a rare genetic disorder affecting 1 out of 600,000 children in the world, causing deaf blindness in children as young as 10, along with lack of vestibular function. I am currently a GBYS Parent Guide serving the Latino families in the State of Nebraska and have a BS degree in Criminal Justice Administration, a Master's of Arts in Secondary Education and a Master's of Arts degree in Curriculum in Instruction, which of the latter two I wish I may utilize in making a difference in educating and advocating for Spanish speaking families with deaf or hard of hearing children.
En Espanol
Nuestra familia está compuesta por mi esposo, Enrique y nuestros 7 hijos (las 3 mayores de nuestras hijas residen en el estado de Minnesota). Juanito es el más pequeño, con solo 3 añitos de edad. El nació con sordera profunda bilateral, y posteriormente estudios genéticos confirmaron el diagnostico de síndrome de Usher's, tipo 1-f. Este síndrome es considerado extremadamente raro, ya que afecta a solo 1 persona de cada 600,000 en el mundo. Las implicaciones de tener este síndrome incluyen sordera total, ceguera y problemas de balance, en promedio afectando la vista en niños desde los 10 años de edad. Actualmente formo parte de Manos y Voces en Nebraska y ayudo a familias hispanas por medio de este programa. Recibí una licenciatura en Criminología, una maestría en educación secundaria y una maestría en educación y plan de estudios. Mi meta es utilizar la educación que obtuve para servir de apoyo a familias de habla hispana y asistirles en la enseñanza de abogar por sus hijos de audición limitada y/o sordos.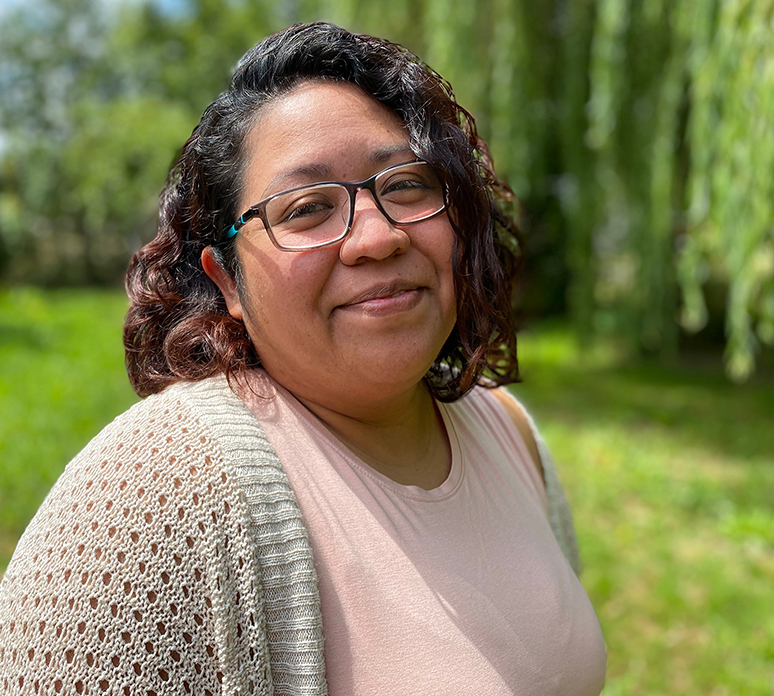 Ana Brooks
My name is Ana Brooks, I am a Bi-lingual Parent Guide for Hands & Voices of Oregon. I was born in Mexico to Salvadoran Parents and was raised in Southern California. I am a proud Mom of two children (Girl and Boy). Our oldest was born with bi-lateral sensorineural hearing loss. Hands & Voices was there to support us in the early stages of my child's diagnoses. My family and I currently reside in Oregon and my daughter is thriving in a well supported mainstream educational program in Salem, Oregon. I am committed to doing the same with all the families I currently serve by sharing resources, empowering them and making sure their future is bright.
En Espanol
Mi nombre es Ana Brooks, soy la Guía Bilingüe de Padres de Hands & Voices de Oregon. Soy nacida en Mexico a padres Salvadoreños y me crie en el Sur de California. Soy una Mama orgullosa de dos, Hija e Hijo. Mi hija mayor nació con perdida de audición neurosensorial bilateral. Manos y Voces nos apoyo durante las primeras etapas. Actualmente, vivo en Oregon con mi familia. Mi hija acude un programa de educcación bien respaldado, convencional ubicado en Salem, Oregon. Estoy comprometida a hacer lo mismo con las families a cual acudo a dar servicio, compartiendo recursos, empoderando y asegurando que tengan un futuro brillante.