Hands & Voices Regional Coordinators
Each Regional Coordinator is a Chapter leader and lives in the region in which they are assigned, (Coordinators may temporarily support neighboring regions when a position is open). Each Regional Coordinator works on different aspects and activities based on the needs in each of their regions, including a Canada. The Regional Coordinators meet with one another by phone/virtually tri-annually and face to face annually. We continue to grow this project as a forum for:
Support to families
H&V Chapters and Start-up efforts
Other regionalized activities with partner agencies such as AAP, as well as the NCHAM regionalized network of support for the EHDI system.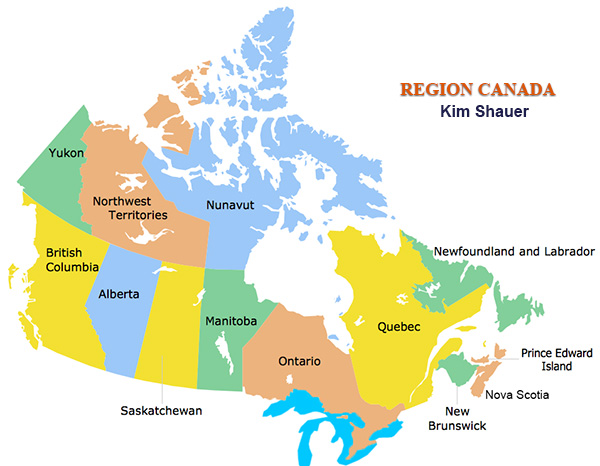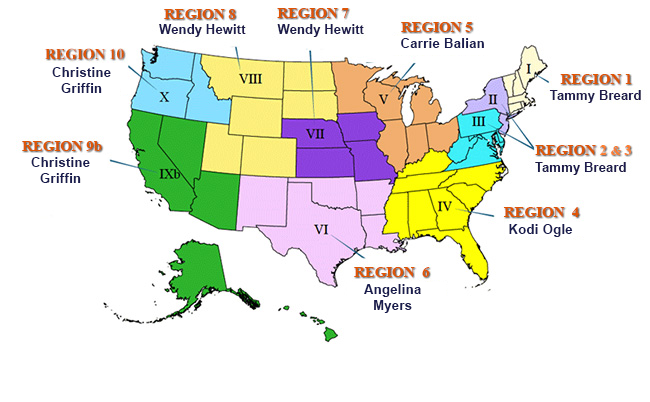 We incorporate leadership from our H&V Guide By Your Side (GBYS) Programs and Advocacy Support and Training (ASTra) Programs to continue cohesion efforts between Chapters and programs. Our goal is to increase awareness among all of our Chapters to help them understand the support offered and provided through this project.
Activities may include:
Providing ongoing technical assistance to Chapters within designated regions
Creating a network amongst states/provinces within region for interaction and collaborative events/trainings
Representing the H&V HQ organization at regional events in assigned regions
Providing a platform for Chapters, in their respective regions, to interact and connect (ex. Yahoo Chapter Leaders' group, Facebook group or page; phone/virtual meetings, etc.).
This project meets a need within our organization and in the EHDI system to continue to develop collaborative partnerships which will produce better outcomes for children who are Deaf/Hard of Hearing.
Learn more about how to connect and engage with Chapters and Programs that you share borders with and how to receive support and resources from YOUR Regional Coordinator! What is this project? Find more information about what Hands & Voices Chapters have done collaboratively, in their respective regions, in the 2020 Annual Regional Coordinator Report.
Questions? Email Terri Patterson, Director of Chapter Support at terri@handsandvoices.org
Meet our Regional Coordinators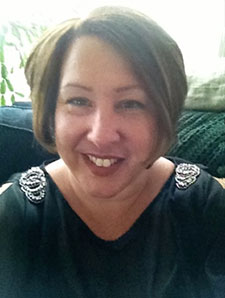 Tammy Breard: Region 1, 2 & 3 Coordinator (ME, VT, NY, RI, CT, MA, NH, NJ, DE, DC, MD, PA, VA, WV)
Connecticut Hands & Voices Board President
Connecticut Hands & Voices Guide By Your Side Coordinator
tbreard@cthandsandvoices.org
Tammy has been involved in advocacy for families with children who are deaf/hard of hearing in Connecticut for the past 6 years. Tammy also works as a Reading Interventionist and provides academic supports for high school students. She resides in Wethersfield, CT with her husband Jay, and two children, Sydney (14) and Noah (11). In 2008, while living in Maine, Noah was diagnosed with bi-lateral sensory neural hearing loss. Shortly after his diagnosis the Maine Chapter of Hands & Voices was started, and the Breard family became members. In 2010, Tammy and her family relocated to Connecticut. With support from the Family Support Network and the Connecticut Early Hearing Detection and Intervention (EHDI) program, Patti Silva and Tammy Breard co-founded the Connecticut Chapter of Hands & Voices in 2011. As the new Regional Coordinator for regions 1, 2, 3, Tammy is looking forward to working with other Chapters in supporting families with children who are deaf/hard of hearing.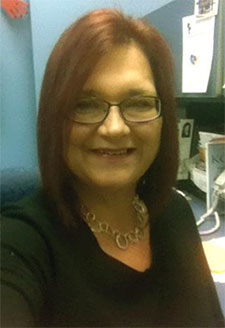 Anita Dowd: Region 4 Coordinator (FL, AL, NC, SC, TN, KY, MS, GA)
Kentucky Hands & Voices Board President
Anita.dowd@ky.gov
Anita Dowd, profoundly deaf since childhood, is the Executive Staff Advisor at the Kentucky Commission on the Deaf and Hard of Hearing in Frankfort, KY. Not only is she an advocate for the deaf and hard of hearing community in her professional life, but as the mother of two girls who also have a hearing loss, she is also extremely passionate about promoting awareness of various deaf and hard of hearing issues in her personal life as well.
Though she has lived with a hearing loss since a young age, it wasn't until she became an adult and had two children with a hearing loss that she truly recognized and understood the diverse issues that deaf and hard of hearing individuals face today. She advocates a multi-faceted approach to these issues as she firmly believes that there is no "one size fits all" solution to the struggles that deaf and hard of hearing people face in their lives. She is passionate about working with families who have deaf and hard of hearing children and is the current president of the KY Chapter of Hands & Voices.
She loves butterflies, art, music and animals. She considers herself a hippie at heart and recently moved to a farm where she has five dogs, nine cats, one lizard and will soon be adding chickens and perhaps a goat or two.
Tabby Belhorn: Region 5 Coordinator (MI, IN, IL, OH, MN, WI)
Ohio Hands & Voices Executive Director
Tabitha.belhorn@ohiohandsandvoices.org
Tabitha (Tabby) Belhorn is a lifelong Ohio resident and currently serves as Executive Director of Ohio Hands & Voices. Previously Tabby has worked as the parent mentor at the Ohio School for the Deaf and as the family information specialist at the Ohio Center for Deafblind Education at the University of Dayton. While serving in these capacities Tabby has attended more than 100 IEP meetings in support of families with deaf and multi-disabled children. She is considered by many as an expert in the development of educational programs that ensure appropriate resources and opportunities are provided to students.
Personally Tabby has a 13-year-old daughter who is deaf. Working as an advocate for her own daughter has served as the impetus for pursuing fair and equal education for other student. Tabby lives with her husband, three children, two dogs, and a cat in the Columbus area. She enjoys running (although not quickly), exercise and fitness, and spending time with her family.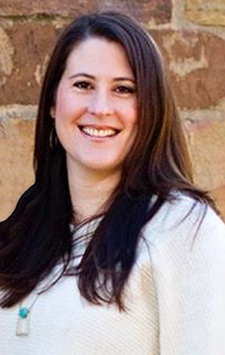 Liana Robbins: Region 6 Coordinator (TX, LA, AR, OK, NM)
Arkansas Hands & Voices Executive Director
Lianar@arhandsandvoices.org
Liana is a lifelong resident of Arkansas. She grew up in Southeast Arkansas, and currently resides in Northwest Arkansas. She lives in Farmington, Arkansas, with her husband and two daughters, staying very busy with cheer, soccer, basketball, gymnastics, music, etc. Their oldest, Olivia, is 11 and is in the 6th grade: the youngest, Lily, is 8 and is in the 3rd grade. Lily failed her newborn hearing screen, and thus began their family's journey with Hands & Voices.
She has been the Executive Director for Arkansas Hands & Voices since January, 2015, but as a family, they have participated in events and family meetings since Lily's birth in 2011. They immediately realized the importance of connecting with families with children with hearing loss, and are firm believers in the mission of Hands & Voices. Arkansas Hands & Voices has been around since 2009 and has accomplished some incredible things.
She is excited to begin her role as the Regional Coordinator of Region 6 and is looking forward to getting to know the leaders of TX, LA and NM Chapters, as well as the other Regional Coordinators. "I feel as though we can learn so much from other Chapters, while sharing our strengths and discussing our weaknesses with each other."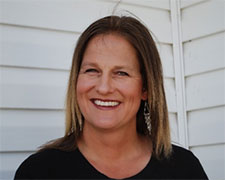 Wendy Hewitt: Region 7 & 8 Coordinator (KS, IA, MO, MT, UT, ND, SD, WY, CO, NE)
Wyoming Hands & Voices Executive Director
Wendy@wyhandsandvoices.org
My name is Wendy Hewitt and I live in the southwest corner of Wyoming in a little town called Mountain View. I am the mom of 3 awesome kids Dallie, Ruger and Kassidy. Both Ruger and Kassidy were born with profound, bilateral hearing loss. So began the journey I never imagined I would take -learning about hearing aids, cochlear implants, ling sounds, speech therapy, IEPs, early intervention, and the list we all know too well. As Ruger prepares to become a freshman, and Kassidy, a 7th grader, they are both doing great in school, they have many friends and are involved in way too many activities. Ruger loves rodeo, basketball and sister tormenting. Kassidy loves rodeo, soccer, basketball and wants to be on American Ninja Warrior!
In May of 2006 some of the professionals in our state talked Deb Hovde and I into starting Hands & Voices in Wyoming. So off we went and with the support of many organizations we became an official chapter in September of 2006. We are currently celebrating our 10 year anniversary! It has been amazing to see the changes and growth that have come in 10 years. Hands & Voices is a great support organization and that I am proud to say I am a part of. As I become a Regional Coordinator, I hope to help states in Regions 7 & 8 to learn and grow from each other's trials and successes. I am excited to take on this new adventure!

TBD: Region 9a Coordinator (HI, CNMI, Guam, Pacific Islands)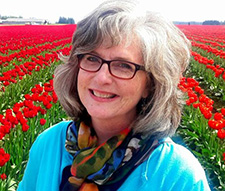 Christine Griffin: Region 9b & 10 Coordinator (ID, OR, WA, AK, AZ, CA, NV)
Washington State Hands & Voices Board President
Washington State Hands & Voices Guide By Your Side Program Coordinator
christine.griffin@wahandsandvoices.org
Christine and her husband live in Washington State and are the proud parents of two young adult children. Her family began this journey in 2001 when both children were identified deaf and hard of hearing six months apart from one another. Through their journey her family has accrued many supporters as they have encountered barriers and steep learning curves along the way.
In 2008 Christine found a home with Hands & Voices. She became their Chapter's first Guide By Your Side Program Coordinator in 2010, and in 2019 became the Board President for their Chapter.
To formalize her experiences as a parent and help increase services and leadership opportunities for families in her state, Christine earned a MEd degree in Adult Education in 2017 with a focus on parents as adult learners. She works as a contractor with the Early Support for Infants and Toddler (EI) program with Washington State Children, Youth and Families as part of a training team for first year Family Resource Coordinators. She is a member of the Hands & Voices O.U.R. Children Safety Project, Washington State's EHDDI Advisory group, and local ICC Advisory group.
In her work Christine most enjoys collaborating with and supporting others. Away from her desk, she most enjoys live theater, walks with family and friends and taking pictures along the way.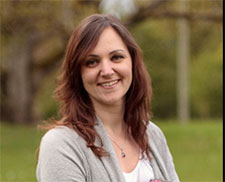 KIM SHAUER: Regional Coordinator-Canada
BC Hands & Voices Guide By Your Side Coordinator
BC Hands & Voices Board Member
BC Early Hearing Program Parent Coordinator (EDHI)
KShauer@cw.bc.ca
As the Regional Coordinator for the Canadian Hands & Voices Chapters (British Columbia, Alberta) I am thrilled to provide a platform for our geographically vast regions to interact and communicate with one another to ultimately provide better support and outcomes for deaf and hard of hearing children in Canada. We discuss ideas on planning events and opportunities for families, offer support and share our valuable networks with one another.
I have two school-aged children – the youngest has a bilateral severe, mixed hearing loss plus complex medical needs. As the GBYS Coordinator in British Columbia, I am passionate about providing parent-to-parent support opportunities, as well as connecting families to resources in our province. My professional background is in Marketing Communications, Conference/Event Planning and Special Education.