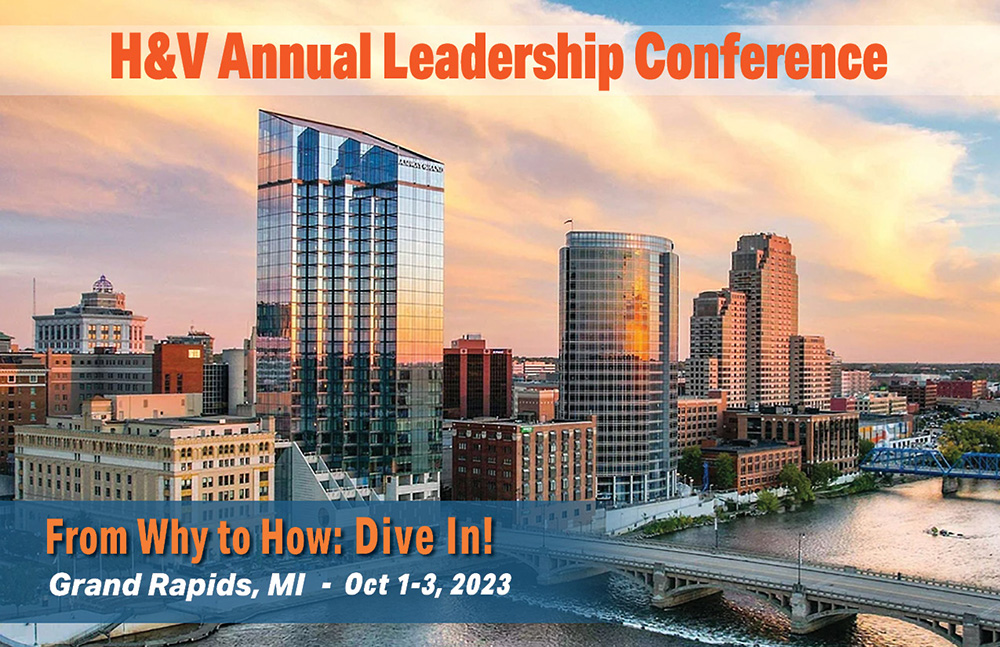 2023 Hands & Voices Leadership Conference
"From Why to How: Dive IN!"
Sunday, October 1, 2023 – Tuesday, October 3, 2023
Location: Grand Rapids, Michigan

Hosted by Michigan Hands & Voices
A Conference for H&V Chapter and Program Leaders, Family-Based Organizations, Parents of Children who are Deaf or Hard of Hearing, and the Professionals who work with us.
Exciting Presentation Topics!
• Grant Writing…Where to Start?
• Social Media in Action
• Becoming a Leader: Leadership in Small Doses
• A Diversity Toolkit: Unleashing the Power of Multicultural Programming
• Comprehensive Family Support in a Rural State: A Family-Based Collaboration
• And more: The Intersection of Fatherhood and Culture, From LEGOs to Letting Go: How a Deaf Mentor Changed Our Family , and much more...
Exhibitor & Sponsorship Opportunities
Click for information on being an Exhibitor or a Sponsor at the Conference.
The Hands & Voices Leadership Conference brings together family leaders from all over the world to develop skills, to receive training on providing leadership to others, and to impact local systems. It is the only conference of its kind devoted exclusively to teaching family members with children who are deaf or hard of hearing how to be effective agents of change.
This conference is an excellent time to network and learn. Please help us build our audience by extending an invitation to a favorite teacher, your EHDI Coordinator, an important school administrator, D/HH leaders and mentors, and families with children who are deaf or hard of hearing. Not involved in Hands & Voices? No problem! This is a fantastic conference containing up-to-date information, fascinating conversations and networking, and exploration of content in new and exciting ways. Please join us!
Conference Registration Information
The Hands & Voices Leadership Conference
Sunday October 1st, 5:30 PM – Tuesday October 3rd, 12:30 PM
ON-LINE Registration is closed.
Registration ON-SITE will be available.
Registration includes:
Sunday 5:30 pm - 9:00 pm - (Includes light meal and opening session/activities at conference center)
Monday 7:00 am – 4:30 pm - (Includes breakfast at conference center)
Tuesday 7:30 am – 12:30 pm - (Includes breakfast at conference center)
General Registration Prices & Deadlines
$445 - Full general conference
$325 - Student- Full General Conference
$325 - Monday Only
On-Line Registration Closes Sept 27th, 2023
Registration is Available On-Site
Dietary and Accommodation Requests must be received by September 17th to guarantee availability.
CANCELLATION & REFUND POLICY: Written cancellation requests must be sent to Jeannene@handsandvoices.org and received on, or before, August 15th, 2023. No refunds will be given after August 15th,  refunds will be issued to those registrants who cancel, less a $75 processing fee per registration. Substitutions are welcome at no charge.
Instructional and Special Sessions
Registration Required and Payment if Noted.
Sunday, October 1st , 8:30 am - 11:30 am
H&V GBYS Coordinator Meeting
(Registration Required)
Audience: You must be a GBYS Coordinator or a DHH Guide Lead or Coordinator to register for this session.
An annual meeting and training for Hands & Voices GBYS Program Coordinators. This session will be sure to provide ongoing training and the opportunity for peer-to-peer learning. This is our one-time each year to be together in-person. Come prepared to share your wisdom and be ready to learn new things from this incredible group of Hands & Voices Leaders!
Facilitator: Lisa Kovacs, H&V Director of Programs
Sunday, October 1st 8:30 am - 11:30 am
H&V Chapter Leader Meeting
( Registration Required)
Audience: This session is ONLY for H&V Chapter Directors and/or Board Presidents, whoever is the parent lead for the Chapter. If the Chapter Director and/or President is not available, one representative from the Chapter Board/staff may attend. You must register for this required pre-conference meeting. No more than two participants may register per H&V Chapter/effort, Provisional Chapter leaders are encouraged to come.
What's in Your Tank? Diving into the Depths of Raising Funds for Your Chapter!
Imagine yourself as a scuba diver...have you checked your tank? What are you starting with? Is your tank nearly full, or almost empty? What are the practices and habits that help fill your tank before you start? As metaphorical scuba divers, we can plan our actions, we can control the depths to which we dive, we can change course as needed, and we can grow more skilled through experience. We also have buddies to dive alongside. This will be an interactive session to learn about individual asking styles, diversifying fundraising in your Chapter, including sponsorships for fundraising events, individual giving and memberships, contracts, and grant writing. The H&V Fundraising Guide will be shared. Whether your Chapter is new or seasoned, small or large, participants will learn real-life strategies, as well as spend time sharing tips and tidbits that will help get your Chapter implementing or revamping something new today! So come dive into the depths of fundraising and fill your tanks!
Facilitator: Terri Patterson, Director of Chapter Support
Sunday Afternoon Instructional Sessions - $99
1:00 pm - 4:00 pm
Registration and Payment Required
 (Register for only one session)
Sunday Instructional Session I (1:00 pm - 4:00 pm)
Tapping Your Fullest Potential: D/HH Plus Child, Parent, Parent Leader, D/HH Role Model and Professional
Each child identified as Deaf or Hard of Hearing (D/HH) has a unique story, especially those who are D/HH Plus health, have learning challenges, and/or visual or physical disabilities. As a parent, a parent leader, D/HH leader, or service provider; it is our job to help support each child to reach their fullest potential, at each stage of life, to the best of our abilities. That is a tall order to fill when we ourselves are limited to our own stories, limited experiences, and learned skill sets. What about tapping into OUR fullest potential?    Join us for a session on how to expand our current skills and knowledge to better meet a child and family right where they are at. We bring the why, now dive into practical tools:  how to recruit staff with "Plus" experience, how to train staff to assess a range of different needs from families, how to effectively support families, how to determine what resources are missing and fill gaps, how to encourage engagement with D/HH adults and peers, and how to follow up with families without overwhelming them.
Facilitators :  Janel Frost, MI H&V, Elba Gonzalez, MI H&V, Michelle John, VT H&V , Christina Payne, WV H&V , Lillian Diuble MI DeafBlind Guide, Beth Kennedy, Project Director, MI DeafBlind Central, Candace Lindow-Davies, H&V HQ
Sunday Instructional Session II (1:00 pm - 4:00 pm)
Social Media in Action
Did you know that the average time a person spends on social media is 147 minutes per day?!? Learn how to make the most of those minutes with practical tools to build your brand awareness.    This session will focus on building a social media plan for your chapter/organization. From who your audience is and what social media platforms to utilize to how to use Canva design software and create content calendars, you will leave with the tools and confidence to implement a social media strategy that fits your needs. We will also explore the importance of DEIA in social media and best practices for implementing DEIA strategies into your social media plan.
Facilitators:   Brooke Montgomery and Rosabel Agbayani
Sunday Instructional Session III (1:00 pm - 4:00 pm)
Deaf Awareness Training
Most of us are familiar with attributes of deafness, including the impact on language, communication modes, hearing amplification, etc. Oftentimes, there are subtle and distinct differences between Deaf and hearing cultures and its impact on our attitudes plus social and communication situations. We will have opportunities to practice cross-cultural situations through role play, group discussions, in addition to time for questions and answers. This training is designed for hearing leaders to strengthen their working relationships with Deaf/HH leaders to benefit all Deaf/HH children and their families.
Facilitators: Emily Burke, parent, H&V DHH Infusion Coordinator and Pamela Wellumson, CSC, ASL Interpreter
Sunday Afternoon Special Sessions - Free
- Registration Required
New Leaders Training
1:00 pm - 3:00 pm (Sunday)
Registration Required
Chapter leaders AND new GBYS/ASTra Coordinators- (new in position within 1-2 years) - This session will provide new H&V leaders with the opportunity to share with others in similar positions some of the challenges and successes they have experienced as a new H & V leader. Hands on technical assistance, resources, and supports will be provided by Hands & Voices HQ representatives during this session. Bring your questions, ideas and energy!
Facilitators: Wendy Hewitt (Wyoming Hands & Voices) and Kodi Ogle ( Tennessee Hands & Voices)
First Time H&V Leadership Conference Attendee Gathering
4:15 pm - 5:15 pm (Sunday)
Registration Required
If this is your first time attending the Hands & Voices Leadership Conference, this is a session you don't want to miss. This will be a fun and interactive session to welcome you to the Leadership Conference and share with you some tips to make the most out of your conference experience.
Facilitators: TBD
Deaf/HH Parents & Leaders Roundtable Discussion
4:15 pm-5:15 pm (Sunday)
Registration Required
Do you identify as Deaf or Hard of Hearing (D/HH)? If so, we invite you to attend this special session. Opportunities for D/HH individuals to interact directly with fellow D/HH peers in a hearing world may not be abundant. Culturally, many D/HH people appreciate time and space to connect with one another and regroup. This session is specifically designed for D/HH parents, D/HH professionals, D/HH leaders, D/HH Hands & Voices board members and staff, D/HH role models and D/HH mentors. The intention of this session is to foster a space for an empowering dialogue about our personal and professional experiences being D/HH and raising D/HH children or supporting families with D/HH children. This protected time and space allows D/HH individuals to share freely and openly about the challenges and successes we face, which is critical in our work to infuse DHH lived perspectives into the systems that serve children who are D/HH and their families.
Objectives:
Connect with other D/HH leaders and D/HH parents
Share the resources that we have to offer each other
Learn more about various personal and professional experience of other D/HH individuals
Identify challenges D/HH leaders experience in the EI system
Discuss effective strategies D/HH leaders use to improve systems and better serve children and families
Facilitators: Emily Burke and Elizabeth Shuler- Krause
Tuesday Instructional Sessions - $99
2:00 pm - 5:00 pm or 2:00 pm- 6:00 pm
Registration and Payment Required
(Register for only one session)
Tuesday Instructional Session I (2:00 pm -5:00 pm)
A Diversity Toolkit:  Unleashing the Power of Multicultural Programming and The Power of a Connected Community.
At its core, the work to advance diversity & inclusion in the deaf and hard of hearing community is about equity and opportunity. The benefits afforded through well-designed and executed early intervention strategies as well as the continued collaboration of services together have been linked to developmental successes. How do we challenge existing paradigms to advance equity among all cultures and backgrounds? How do we as professionals, providers, and families, adjust our policies and practices to enhance equity, opportunity, accessibility to all? During this session you will learn what bias is, recognize where it comes from and explore its impact. You will learn strategies to push bias attitudes aside at the individual level and improve your capacity for attracting diverse families to our programs and events. The foundation of every community is a sense of connectedness. Those who are connected to their community are more likely to be engaged and actively contribute to a common goal.  In this second part of the session, participants will learn strategies and fill their toolbox with practical applications of taking DEIA work to their state chapters, including measuring outreach and building community engagement in the work we are doing.
Facilitators: Rosabel Agbayani, Rashaun Davis, Michelle Hu, and Rana Ottallah.
Tuesday Instructional Session – II (2:00 pm - 6:00 pm) $99.00
Train- the- Trainer: "Sharpening Our Skills to Train Others"
Limit of 20 participants
Hands & Voices Train–the –Trainer "Sharpening Our s-Skills to Train Others" is a session for anyone who is in a position of training others.  Participants in this session will learn about adult learning theory, how to find balance between lecture and interactivity, how to apply storytelling, managing participants, and overcoming training challenges. If you are  interested in sharpening your presenting skills and enhancing your ability to train others, this session is for you!
Facilitators: Lisa Kovacs and Terri Patterson
Hotel Information 
To be eligible for the group rate, reservations must be made on or before August 30th, 2023.
Amway Grand Plaza
187 Monroe Ave NW,
Grand Rapids, MI 49503
Visit Website
Special Room Rate Available until August 30th, 2023—$179.00 per night
Click Here to Reserve Your Room
Travel Information:
Grand Rapids is the second biggest city in the state of Michigan. It is located on the west side of Michigan's Lower Peninsula. Known for its art, food, craft beer and museums, there is something for everyone to enjoy in Grand Rapids!
Air travel:
Gerald Ford International Airport
Ground Transportation to Hotel/Conference Center from Airport
The hotel does not provide shuttle service. Ground transportation options from airport include:
Click here for all Ground Transportation available from the airport.
Quick links and information:

Rideshare: To catch your rideshare at GFIA, exit the terminal through door #2 (across from the Delta ticket counter), and go to the Rideshare Shelter on the boulevard. This is the designated pick-up/drop-off point for all rideshare vehicles.
Parking Rates at Hotel:
The hotel has agreed to offer a discounted parking rate of $20.00 per night for Self-Parking and $24.00 for Valet Parking. (Current parking rates are $35.00 per night for self-parking and $39.00 per night for valet parking.)  Overnight Guests of the Amway Grand Plaza can park in our adjacent parking ramp.
Overnight parking does have unlimited in and out privileges, however parking on the Hotel ramp is not guaranteed.