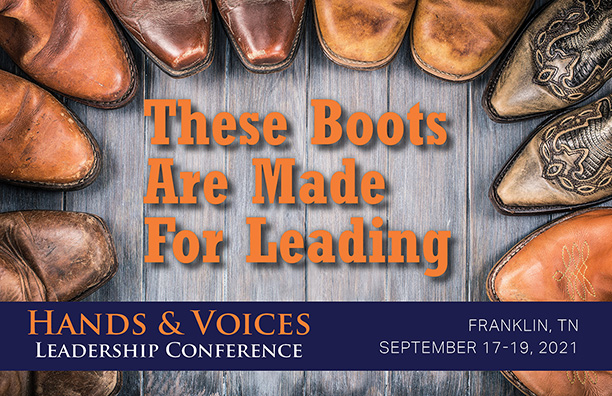 2021 Hands & Voices
Leadership Conference
These Boots are Made for Leading
Franklin, Tennessee
September 17-19, 2021
A Conference for H&V Chapter Leaders, H&V GBYS and ASTra Programs, Family Based Organizations, Parents of Children who are Deaf or Hard of Hearing, and the Professionals Who Work with Us
Exciting Leadership Topics!
Building Cultural Resiliency in a Diverse Community
Developing Parent Leaders: Where do Professionals Fit in?
Influence vs Authority: Expanding your Influence to Create Giants of Others
And more: Leading with joy, homeschooling, mental health, non-profit management, balancing life and leadership…
NEW Exhibitor & Sponsorship Opportunities this year!
The Hands & Voices Leadership Conference brings together family leaders from all over the world to develop skills, to receive training on providing leadership to others and to impact local systems. It is the only conference of its kind devoted exclusively to teach family members with children who are deaf or hard of hearing to be effective agents of change.
This conference is an excellent time to network and learn. Please help us build our audience by extending an invitation to a favorite teacher, your EHDI Coordinator, an important school administrator or families with children who are deaf or hard of hearing. If you are not involved in specific activities for Hands & Voices, this is still a fantastic conference containing up-to-date information, fascinating conversations, and exploration of content in a new and exciting way.  Please join us!
The H&V Leadership Conference
Registration
$395 - Full general conference
$275 - Saturday Only
$275 - Student – full general conference
Early Bird Ends August 16th, 2021
Registration prices increase by $50.00 on August 17th, 2021
* Housing is NOT Included in price
CANCELLATION & REFUND POLICY: Refunds will be made to those registrants who cancel, less a $75 processing fee per registration. Written cancellation requests must be received on or before August 16, 2020. No refunds will be made after August 16th, 2021. Substitutions are welcome at no charge. Please EMAIL cancellations to Jeannene@handsandvoices.org.
Please note:  We are closely monitoring the CO-VID 19 Pandemic. As of now, we are planning to have an in-person conference.  We are following state and federal guidelines and recommendations. The safety of our staff, attendees, and conference center employees will be our number one priority. In the event we must cancel an in-person conference due to mandatory state and or federal guidelines the following refund policy will be implemented: Full refund of conference registration fees less a .05 percent processing fee will be implemented. Hands & Voices will only refund the cost of registration. No other travel costs will be refunded by Hands & Voices.
The Leadership Conference runs Friday through Sunday, September 17-19th, 2021
General Registration includes:
Friday 6:00 pm to 9:00 pm - (Includes light meal and opening session/activities)
Saturday 7:00 am – 4:30 pm sessions - (Includes breakfast.  Lunch available to purchase on-site)
Sunday 7:30 am – 12:30 pm sessions - (Includes breakfast)
Instructional Sessions (Pre-Registration Required)
H&V Leaders' Joint Meeting
(Registration Required)
8:30-11:30 am on Friday, Sept 17th.
FREE - Must Pre-register
Audience: Chapter leaders (Regional Coordinators, Directors, BOD Presidents and/or one designated Chapter representative) and GBYS/ASTra Program Coordinators are highly encouraged to attend. This combined meeting is intended for Hands & Voices Chapter Leaders (Authorized, Provisional, and recognized Start-ups) and GBYS/ASTra Program Coordinators ONLY. You MUST pre-register to participate.
Facilitators:
Lisa Kovacs, H&V Director of Programs
Terri Patterson, H&V Director of Chapter Support
H&V HQ staff
Description: This year we are extremely excited to bring all of our H&V Chapter and Program Leaders together for this Friday morning session! At Hands & Voices we encourage (and require) cohesion between our Chapters and Programs; what better way than working together while we are all in person! We will be working in teams by Region-- we want you all to have an opportunity to get that valuable face time with your neighbors. First, we are going to take a deeper dive into technical assistance and support provision. How can we more effectively assess our own health as Chapters/Programs, proactively addressing and meeting our own state/province-wide needs and those of all of our Chapters/Programs, organizationally? Let's dig in!
We will then come back together to share the gained wisdom among us. We have invited Christine Griffin (Regional Coordinator for regions 9/10) and Janet DesGeorges (H&V Executive Director) to share their wisdom to help us gain a better understanding of basic financial practices and learn three practical strategies to apply to our own internal financial practices. Let's face it, we may not have signed up for this when initially choosing to support families, but here we are stepping into a whole new realm of learning and leadership. This presentation will ease participants in to exploring the ins and outs of creating solid financial practices from a non-profit start-up perspective and phases of growth over time that can be implemented.
Friday Instructional Sessions
1-4pm on Friday, September 17th 
$99
*Select only one of the three pre-session topics below
Friday Instructional Session I
Graphic Design for Dummies… Advertising and Website Design
This training reflects the needs of most small non-profit leaders, having to learn at least the basics of certain technical skills to run an organization.   Learn the basics you should know when designing logos, brochures, flyers, web sites, postcards, t-shirts, mugs etc.. Software and concepts professional printers/vendors expect/hope that you know and use when going to production.
You do not have to be an Advertising Executive to create an effective website or advertising piece. Whether you are a novice, been around awhile, or a pro at promotions... you can get results by following the steps and advertising concepts shared in this session. Use your own insight to create meaningful messages for your audience and seal the deal. What's in it for you? See more families at your events, more qualified applicants for your jobs, and more money in the bank!
Trainers:  Joe DesGeorges and Karen Wisinski
Friday Instructional Session II
Effective Facilitation: Build Your Skills
This workshop will focus on facilitation skills for leaders resulting in increased effectiveness in leading committees, inter-agency meetings, staff and board meetings, panels, and other types of situations where facilitation skills are needed.  The presenters will share some case studies from real life examples. Participants will be prepared to avoid the pitfalls of poorly managed meetings and increase the likelihood of success. The HOW-TO's of great facilitation will be explored, including:  Preparing ahead of time; What comes first?  (Relationships or Action Plans); Participant in and/or neutral party in discussions? It depends; Embracing (and mitigating) your own personality and temperament as a facilitator; How to maintain flow when there is disagreement; Building and leading agendas: when to stay on task and when to 'let it flow'; Getting input from others (the quiet ones and the talkative ones); Facilitating virtual meeting platforms;    Decision making (consensus or ?); How to know when NOT to facilitate a group; Wordsmithing by committee; Who needs to be at the table; Do you need to co-facilitate?
Trainers:   Cheryl Deconde Johnson, Rick Hauan, Janet DesGeorges
Friday Instructional Session III
Models of Learning and Insight for All from Community Leaders serving families with Deaf/Blind Children:
Developing and Implementing a Cultural Ambassador Program: Due to a broad range of challenges in identifying and referring children with deaf-blindness and the cultural and linguistic diversity of the population, the National Deaf/Blind TA Network has created a framework and process for implementing a cultural ambassador program within state deaf/blind projects. Participants will be provided implementation examples from states with strategies used to boost referral, enhance parent knowledge and skills through providing high quality training and resources, and foster their ability to advocate for the needs of their child and family within the educational setting and community through culturally responsive practice. Discussion will include processes for assessing internal project capacity, building state level partnerships, and sustaining practice.  Supporting Families who have Children with Complex Needs including Combined Vision and Hearing Loss - This part of the session will include information and resources for family leaders on supporting families who have children with complex needs including those who are deaf/blind. Content shared will include online websites and videos, training modules, ways to connect with state and national organizations, and family stories that parent leaders can use and disseminate in their work. Memories and Experiences for Children and Youth who are Deaf/Blind, DHH with complex needs. –All individuals have memories and experiences. As hearing and sighted individuals, we are able to talk and share our memories across settings which helps us connect with other people, build concepts, develop literacy and relive experiences.  Children with complex needs do not always have a way or an opportunity to talk about their memories and experiences. This section of the training will provide participants with concrete examples to be inclusive when it comes to memories and experiences for all children. Through hands on simulations, participants will leave with gained knowledge about the learning channels of students with complex needs and the need for intentional teaching.
Trainers: Djenne-amal Morris, Danna Conn, Megan Cote, Myrna Medina, Donna Carpenter, Peggy Sinclair-Morris, and Kim Zeigler

Friday, Sept. 17th: 1-3pm & 4-5pm
FREE Special Sessions: Pre-Registration Required
Special Session I - FREE
1:00 – 3:00 pm
Hands & Voices NEW Leaders Training
Chapter leaders AND new GBYS/ASTra Coordinators - (new in position within 1-2 years) - This session will provide new H&V leaders with the opportunity to share with others in similar positions some of the challenges and successes they have experienced as a new H&V leader. Hands on technical assistance, resources, and supports will be provided by Hands & Voices HQ representatives during this session. Bring your questions, ideas and energy!
Presenters:  Tammy Breard and Liana Robbins
Special Session II - FREE
4:00-5:00pm
First Time H&V Leadership Conference Attendee Gathering
If this is your first time attending the Hands & Voices Leadership Conference, this is a session you don't want to miss. This will be a fun and interactive session to welcome you to the Leadership Conference and share with you some tips to make the most out of your conference experience.
Presenters:  Deshonda Washington and Scarlett Giles
Special Session III- FREE
4:00-5:00pm
DHH Guides, Mentors and Role Models: A Round Table Discussion
Join us for a round table discussion as we learn from established H&V Guide, Role Model and Mentor programs. If you are with a chapter or a state that is in the process of looking at another way of supporting families, come and ask questions. The FL3 DHH Guidelines, other resources, and information from recent surveys will be shared. Let's meet and share the wisdom among us.
Presenters: Stephanie Olson, Karen Putz

Sunday Instructional Sessions - $99
Sunday Instructional Sessions
2-5pm or 2-6pm on Sunday, September 19th.  Select only one of the three post-session topics below
Sunday Instructional Session I   2:00– 5:00 pm
$99 - Limit of 20 participants
Hands & Voices Train–the–Trainer "Sharpening our skills to train others"
Hands & Voices Train–the –Trainer "Sharpening our skills to train others" is a session for Hands & Voices Leaders who are in a position of training others. This may include a Hands & Voices board member, GBYS Coordinator, ASTra Advocate, etc. Participants in this session will learn about adult learning theory, how to find balance between lecture and interactivity, how to apply storytelling, managing participants, and overcoming training challenges. If you are a Hands & Voices leader who is interested in presenting and training others, this session is for you!
Presenters: Lisa Kovacs and other HQ Staff
Sunday Instructional Session – II 2:00- 6:00 pm
$99
Parent Cafe (DHH version) Facilitator Training
Parent Cafés are physically and emotionally safe spaces where parents and caregivers talk about the challenges and victories of raising a family. Through individual deep self-reflection and peer-to-peer learning, participants explore their strengths, learn about the Protective Factors, and create strategies from their own wisdom and experiences to help strengthen their families.    Cafés are structured discussions that use the principles of adult learning and family support. They are committed to an approach that engages and affirms parents as leaders.   Participants leave Parent Cafés feeling inspired, energized, and excited to put into practice what they have learned.
Trainers:  Sarah Roof, Michelle Niehaus
Sunday Instructional Session III 2:00 – 5:00 PM
$99
Cultural Sensitivity: Exploring Triggers and Tools that Diffuse them
A culturally sensitive perspective changes the way we approach, counsel, support, and provide services to families who have children with hearing loss. Through transformational leadership practices, this presentation will guide participants to uncover a beginning personal journey towards cultural competence by exploring triggers related to cultural differences and discovering tools that may diffuse these triggers to build strong, meaningful and lasting relationships with the families they serve.
Presenter:  Michael Douglas
Hotel Information
 SPACE IS LIMITED – REGISTER NOW!
Special Room Rate Available until August 27th—$139.00 per night
Hotel Information
Franklin Marriott Cool Springs
700 Cool Springs Blvd.
Franklin, TN  37067
https://www.marriott.com/hotels/travel/bnacs-franklin-marriott-cool-springs/

Air travel:
Nashville International Airport (BNA)
Ground Transportation to Hotel/Conference Center:
The hotel does not provide shuttle service. Ground transportation options from airport include: