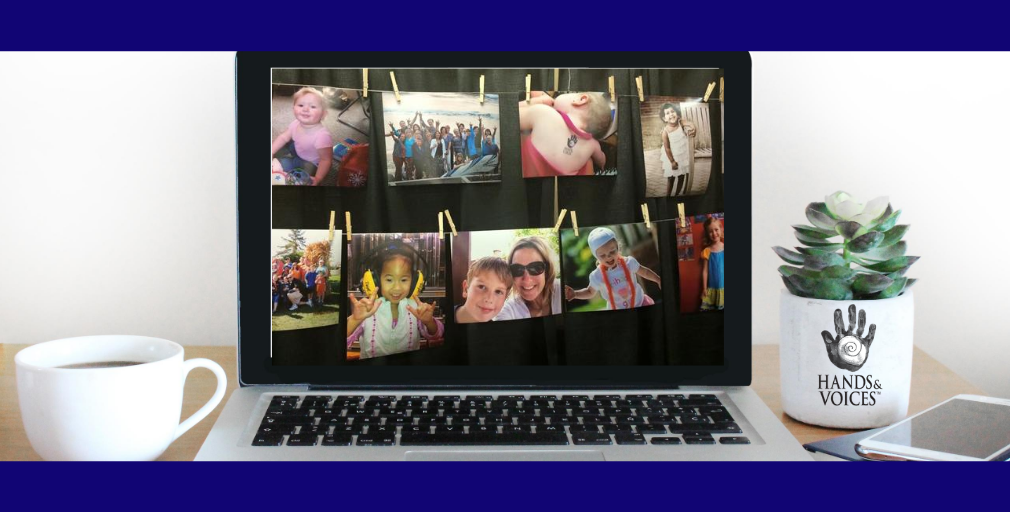 The Hands & Voices Virtual
"Something Extraordinary" Leadership Event
Saturday, September 19th, 2020
Cost:  $75.00
Limited parent scholarships and babysitting stipends available: email janet@handsandvoices.org for more information
ONLINE REGISTRATION CLOSED:  Contact jeannene@handsandvoices.org for more info if you have questions about late registration.
Agenda
10:30 am – 4:00 pm Mountain Standard Time Zone
10:30 am (or 11:30 am) -12:30 pm
Instructional Sessions (see bottom of page)
12:30 pm - 1:00 pm   
Rolling slide show – come early, settle in, find your 'sacred space' and prepare for community….. a chance to pause in our lives for some inspiration to keep us going, growing, and thriving.  
1:00 pm – 4:00 pm Main Event
1:00 pm -2:15 pm  -Welcome and  Extraordinary Presentation #1
Choosing Deafness:
An Inspirational Story of Love and Leadership from Kenya
In this remarkable story of love, loss, deafness and adoption, Jackie Oduor will share some of her journey as a mother of deaf children, including becoming an adoptive parent who ultimately chose with her heart and…. chose deafness.  Jackie will also share her emergent journey of becoming a leader, who did not seek leadership, but nonetheless humbly stepped up to serve in a country of need and in her words, "never to despise the small beginnings."  This presentation will inspire you to do likewise.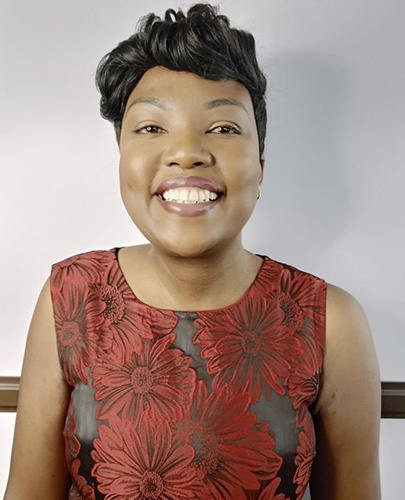 Presenter Jackie Oduor, Nairobi Kenya
Presenter information: Jackie Oduor is a mother to three young deaf and hard of hearing children in Kenya. She leads the Parents Teachers Council of Jabali elementary school and kindergarten that integrates children with hearing loss in mainstream learning. She coordinates a support group for parents advocating for early hearing detection and intervention, and is a Leader of the Hands & Voices Kenya Chapter.
2:15 pm – 2:30 pm - Break and Fostering Joy Slide Show
2:30 pm – 4:00 pm - Welcome back, some more 'moments' of extraordinary and… Extraordinary Presentation #2
The Extraordinary State of H&V: Standing In The Gap!
Our world is challenging us to the core right now. The pandemic, calls for increased social and racial justice, and the mystery of how to educate our children in this new normal, has many of us shaken like never before. Djenne and Michael will encourage us to use our hands and voices to stand in the gap and be the change for our children, what this means for us individually, as a society, and of course as a Hands & Voices family.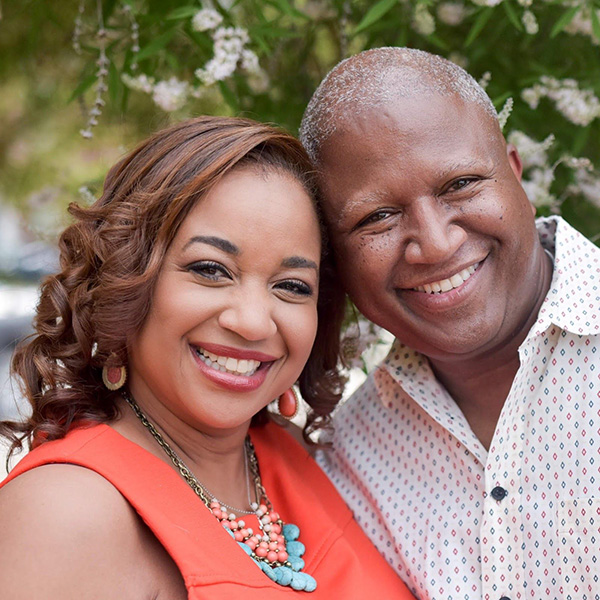 Presenters Michael and Djenne-amal Morris
Presenter information: Michael and Djenne-amal Morris have been sweethearts for 37 years and married for 28! They are the proud parents of 3 children; Imani Sojourner (25) graduated from Abilene Christian University and works with children in Austin; Malik-asante (24) graduated from Eastern North Carolina School for the Deaf and lives in Fayetteville, NC in the only group home for deaf adult men in North Carolina; and Zakiya-mali Sadaka (19) is a junior at the University of North Carolina in Chapel Hill where she is studying to become an Audiologist. Michael graduated from Wesleyan University with a BA in English. He soon realized that what he loved best about communications was listening more than talking which has led him to 30 plus years in full-time ministry, sales and life coaching HR. Currently, Michael is an HR Recruiter with Goodwin Recruiters a freelance HR Consultant and certified life coach where he uses his extensive background in communication and business development to match a company's staffing needs with qualified talent.
Djenne brings humor and real-life experience to her role as national and international trainer and motivational speaker whose view of the world not as it is, but as it could be. As a mother of a son with CHARGE Syndrome she strives to build an atmosphere of support and empowerment for families of children with special needs and the professionals who serve them. Djenne currently is a Parent Educator/Training Coordinator at BEGINNINGS for Parents of Children Who Are Deaf or Hard of Hearing and serves as the Family Faculty/Multicultural Advisor for the NC-LEND program at UNC-Chapel Hill. She loves being the President of the Board of Directors for Hands & Voices HQ. She is a co-author of The Art of Collaboration: Lessons from Families of Children with Disabilities. Djenne holds a BA in Psychology from Clark University and a Certificate in Diversity & Inclusion from Cornell University.
Michael and Djenne are more than life partners, they are a motivational force and take pride helping others realize their dreams! They count their empty nest as their "trophy" and reward for raising/transitioning a special needs family successfully. But, since their mutual passion is helping others succeed, they are continuing to help coach, teach and mentor others. From years of working together supporting others in full-time ministry and in the special needs community, they know the value of the human experience and meeting others where they are on their journey. To better meet the diversity of needs, they formed Morris Consulting to provide the coaching and tools necessary to help individuals, families and organizations.
Closing Circle:
A time-tested tradition at the annual H&V Leadership Conference, get ready for a virtual experience to lead us out of our time together to stay the course and continue to serve as leaders….
Pre-Meeting and Instructional Sessions for our Virtual Conference (must sign up during registration process)
Choose One of the three sessions below
10:30 am – 12:30 pm  
Hands & Voices Extraordinary Leaders – Come Get Your Vitamin R
Audience: Chapter leaders (Regional Coordinators, Chapter Directors, BOD Presidents and/or one designated Chapter representative) and GBYS/ASTra Program Coordinators are highly encouraged to attend. This combined meeting is intended for Hands & Voices Chapter Leaders (Authorized, Provisional, and recognized Start-ups) and GBYS/ASTra Program Coordinators ONLY and you MUST pre-register to participate.  
This year we are extremely excited to bring all of our H&V Chapter and Program Leaders together for "Something Extraordinary" for this Saturday morning virtual session! At Hands & Voices we encourage (and require) cohesion between our Chapters and Programs; what better way than working together! We will be working in teams by Region/Technical Assistance Area to provide our leaders the opportunity to get that valuable face time with your neighboring Chapters. Although we can't be together in person, we hope this virtual opportunity will provide all H&V leaders a time to come together, replenish and renew (Vitamin R) ourselves through community with one another.
Facilitators:
Lisa Kovacs, H&V Director of Programs
Terri Patterson, H&V Director of Chapter Support
H&V HQ Area Technical Assistance Advisors
11:30 am – 12:30 pm  
Exploring Leadership from Beginning to End (…with the middle thrown in)
Audience:  Open to all participants of the "Something Extraordinary" Virtual Event
In this presentation we will explore the leadership journey for parents, professionals and D/HH adults who desire to create and influence change within EHDI, education and community systems. Specific leadership skill-building strategies will be addressed, including:  maintaining and sustaining through the pandemic as leaders, finding balance in work and life, letting go of ego, (self)motivation, creating and leading teams that last. 
Facilitators:  Janet DesGeorges and Helen Leiser, H&V Headquarters
11:30 am – 12:30 pm
Supporting Families Without Bias – a flipped classroom discussion
Audience: open to all participants of the "Something Extraordinary" Virtual Event
Limited to 25 participants (first come, first served)
Participants will be sent a link prior to the meeting to view Hands & Voices hallmark presentation, "Supporting Families Without Bias" and come prepared to ask questions, participate in a facilitated discussion about this important and sometimes controversial conversation. Can it be done? Come and explore.
Facilitators:  Karen Putz and Stephanie Olson, H&V Headquarters
Something Extraordinary
Sponsorship Opportunities
CLICK HERE TO REGISTER AS A SPONSOR
$1,000
Your sponsorship will allow three parents to attend the conference and provide babysitting services for them to participate in the conference.
Also Included:
 ¼ page ad in the Communicator  
Social media posts
Logo scroll on the Zoom meeting 
$750
Your sponsorship will allow will provide babysitting services for two parents, allowing those parents to attend the conference.
Also Included:
4"x4: ad in the Communicator
Social media posts
Logo scroll on the Zoom meeting
$350
Your sponsorship will provide babysitting services to one of our parents attending the conference.
Also Included:
Social media posts
Logo scroll on zoom meeting