The Hands & Voices/FL3 Center CIRCLE of Change™ with the goal to equitably serve families including underrepresented populations, H&V/FL3 commits to: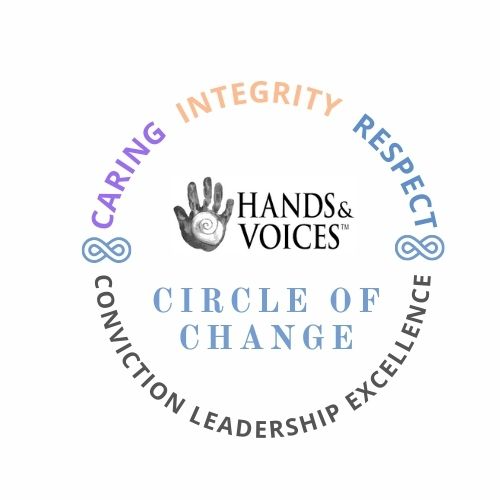 Increasing knowledge and understanding of differences
Shifting culture towards a shared community
Sharing personal stories of diverse lived experiences
Finding commonalities in our narratives
Celebrating how likeness creates interdependence
Empowering our village to elicit systemic transformation
H&V CIRCLE of Change™ model and our commitment to
CARING - To show kindness and compassion by leading with care and
learning from others – to treat others with courtesy, sensitivity, and dignity
INTEGRITY - To model honesty, ethics, and dependability because trust is
critical when working with families, team members, partners, and communities
RESPECT - To treat people with dignity and value their ideas and contributions
CONVICTION - To work passionately and diligently and never settle for the
status quo, knowing everyone deserves to be treated with dignity and respect
LEADERSHIP - To set a positive example in service to others
EXCELLENCE – To pursue a legacy to leave for the future of the organization
and community
AFFIRM:  Leaders of Color Training Session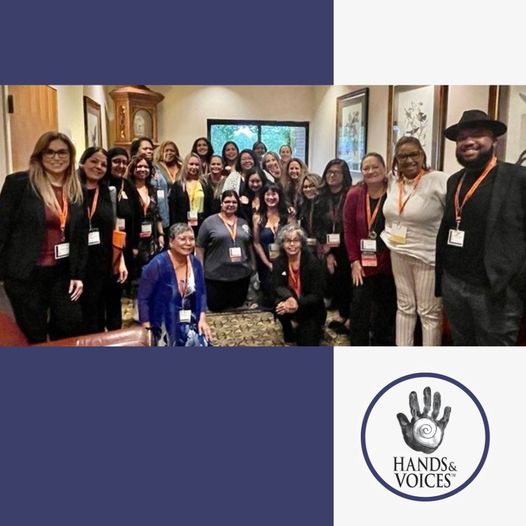 A first of its kind meeting at the Hands & Voices Leadership Conference in September 2022 at Fairport, NY proved to be a successful session that had overwhelming positive feedback from participants, most of whom were from diverse populations.
The AFFIRM: Leaders of Color Training session was an idea put forth by diverse leaders from Hands & Voices who saw a need to address Diversity, Equity, Inclusion, and Accessibility (DEIA) in the community that serve Deaf and Hard of Hearing Children and their families.
The purpose of the AFFIRM: Leaders of Color Training was to acknowledge the value, importance, and necessity of diverse leadership. This was a space for leaders to feel empowered, share ideas and resources to create culturally and linguistically relevant information and actionable steps to move forward in the work of supporting families with children who are DHH.
Our goal is to put Diversity, Equity, Inclusion, and Accessibility at the center of all Hands & Voices initiatives and to create a sustainable diverse leader-to-leader support thus providing continued support to underserved and underrepresented populations. This session was a first step towards that goal.
Allowing a brave space for sharing personal experiences servicing underrepresented communities, this leadership group found the commonalities of the struggles and inspiration of a support network to continue the work they do. Building a better understanding of the unique challenges and roadblocks of traditionally underserved and underrepresented populations is necessary to drive continued quality improvement efforts and to identify the gaps in systems that affect children who are Deaf and Hard of Hearing. Thank you to all the leaders who participated!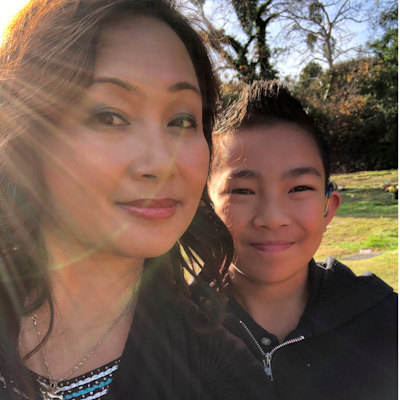 Introducing
Rosabel Agbayani, MPH
Hands & Voices Consultant to support Diversity and Inclusion Innovations
Rosabel Agbayani lives in San Diego, California with her husband Mike and three children. Her son was late identified as deaf at the age of 3. Rosabel has a Bachelor's of Arts in Human Development from California State University San Marcos, Bachelor of Science in Communicative Disorders and Deaf Education from Utah State University, and a Masters in Public Health Specializing in Health Promotion from National University. In addition to her role at Hands & Voices, Rosabel is Senior Clinical Research Coordinator for Rady Children's Hospital, Chairperson of the Poway Unified School District Special Education Community Advisory Committee, and President of the Board of Directors for California Hands & Voices.
As the Consultant to support Underserved Populations, Rosabel will assist Hands & Voices with an increased focus on diversity with specific support in the FL3's delivery of technical assistance, training, and education.
Contact Rosabel at Rosabel@handsandvoices.org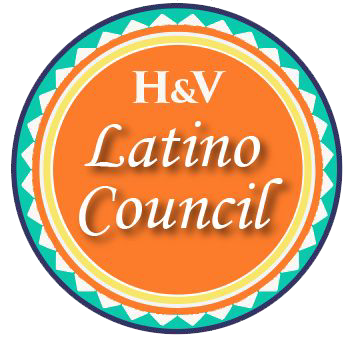 The H&V Advisory Council for Latino Family Support
Recognizing that a significant number of families across Hands & Voices (H&V) Chapters and Programs use Spanish as a first language, we at H&V are motivated to expand already existing efforts in local Chapters as well as at H&V HQ, through the H&V Advisory Council with the purposes of: pooling resources, providing thought leadership, and formalizing support for innovation around supporting families who are Spanish speaking. The H&V HQ Advisory Council for Latino Family Support provides an opportunity for Latino self-determination and leadership in Latino support. The H&V HQ Community for Latino Family Support is an important think tank to support the Advisory Council by drawing upon broad-based input from a wide range of interested participants who serve Latino families. for more information about this project, please email janet@handsandvoices.org
Hands & Voices Latino Council: https://handsandvoices.org/resources/espanol/
Join the Latino Council Community Forum meetings: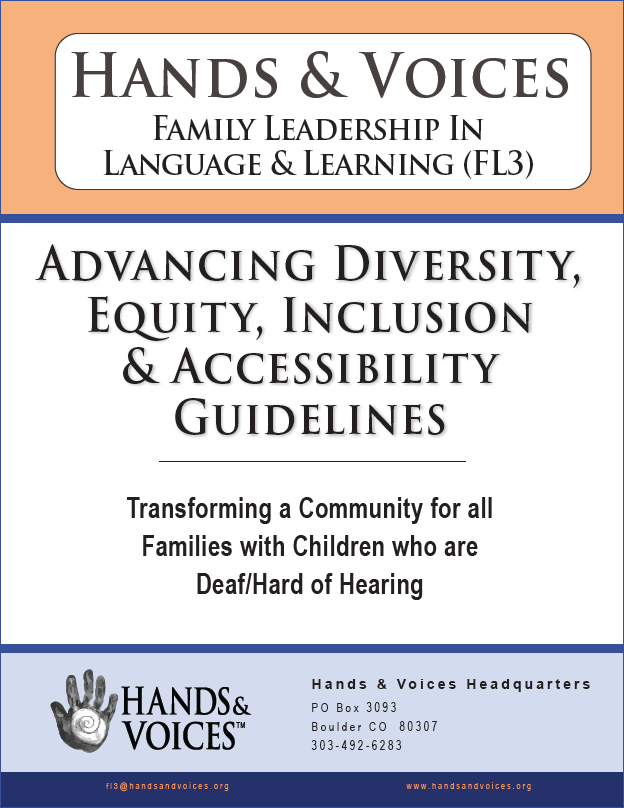 Advancing Diversity, Equity, Inclusion & Accessibility Guidelines
These guidelines provide background and examples of the value of diverse lived experiences and then culminates in an ever-evolving plan for H&V/FL3 to carry out its mission for the benefit of all children who are DHH and their families. Whether you represent a pro¬gram, community organization, or are a parent leader, the resources we have packaged will help you build a better understanding of the needs of underserved and underrepresented communities. By focusing on Diversity, Equity, Inclusion, and Accessibility we can do our part to transform our community for all families with children who are deaf or hard of hearing.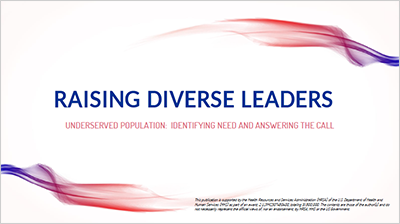 "Raising Diverse Leaders: Identifying need and answering the call in the underserved population." Learn about the definition of Underserved Population, the importance of outreach, and strategies to serve.
[ Download Presentation ]
Djenne and Michael Morris "The Oops and the Ouches"
Video of the Morris's presentation at the 2020 "Something Extraordinary Virtual Conference."
Diverse Family Leaders: Making Progress and Showing You How! [ View Video ]
Choosing Deafness: An Inspirational Story of Love and Leadership from Kenya with Jackline Oduor [ View Video ]
National CLAS Standards Powerpoint [ Download Slide Deck ]
D.E.I.A. Resources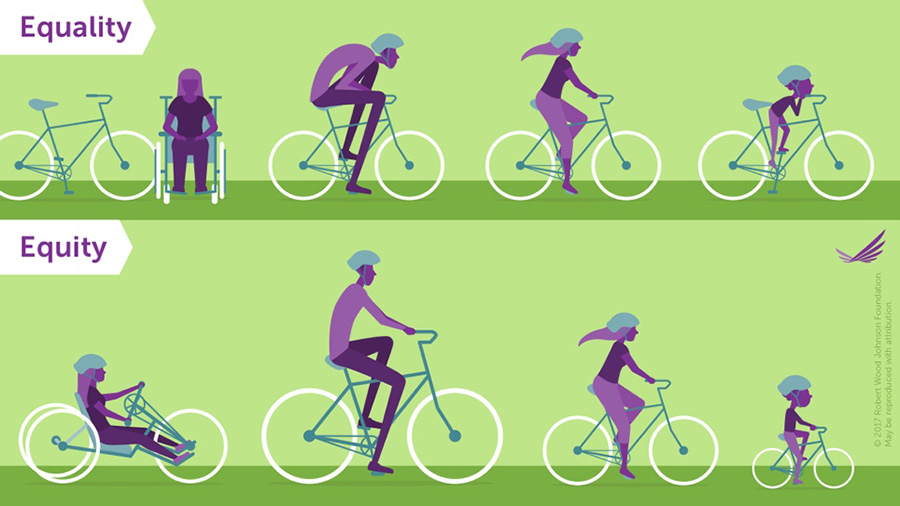 Health Equity Links
Anti-Racism Resources
List of Books
Books For Parents:
The Latehomecomer: A Hmong Family Memoir by Kao Kalia Yang
The Spirit Catches You and You Fall Down: A Hmong Child, Her American Doctors, and the Collision of Two Cultures by Anne Fadiman
Keeping Hope Alive: One Woman: 90,000 Lives Changed (Somali woman's experience) by Hawa Abdi
Between the World and Me by Ta-Nehisi Coates
Yellow: race in America Beyond Black and White by Frank H. Wu
How Does it Feel to be a Problem? Being Young and Arab in America by Moustafa Bayouumi
Custer Died for Your Sins by Vine Deloria, Jr.
Homegoing by Yaa Gyasi
The House on Mango Street by Sandra Cisneros
The Autobiography of Malcom X as told to Alex Haley by Malcolm X, Alex Haley, et al.
The Fire Next Time by James Baldwin
Becoming by Michelle Obama
Follow Haben Girma on Facebook: author, The Deafblind woman Who Conquered Harvard law  www.habengirma.com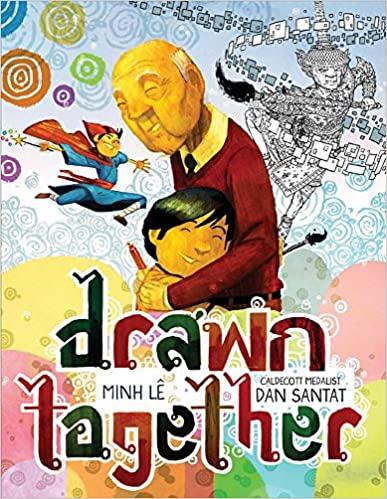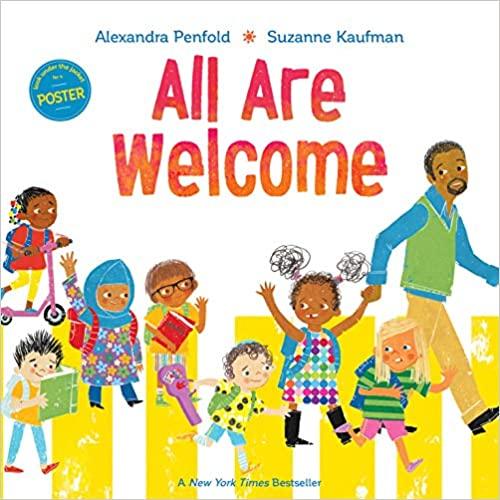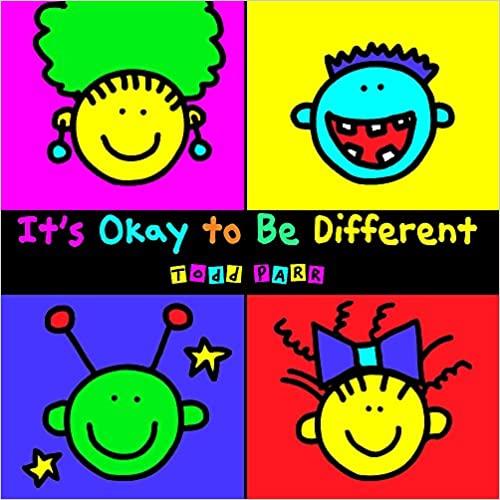 Books For Children:
13 Children's Books About Race and Diversity on PBS Kids for Parents.
30 Children's Books About Diversity that Celebrate our Differences at Book Riot.com by Danika Ellis
Lots of different families. Lots of different kids. Lots of different books. Be curious. Be teachable.