One Family's Journey:
Just Like Any Child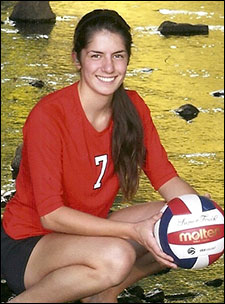 Madeline Gustafson
Just like any child, Madeline Anna Gustafson has had her share of trials through her 17 years on earth. She is hard-of–hearing, and has been so since birth. She was born at 30½ weeks gestation. So, after eight weeks in NICU, ICC, and Special Care Nursery, she came home at four pounds, five ounces, one week before her planned due date. We knew that she had some level of hearing loss, most like due to her many risk factors that might cause a hearing loss, including being on a ventilator for 10 days, high bilirubin with transfusion, doses of ototoxic medications, low birth weight, and a low APGAR score. By the time she was released from the hospital, her fragile weight and hearing loss were our major concerns. We were just so thankful that she was coming home, and coming home without any major health issues that would affect her through her life. Her hearing loss would be a challenge but we believed it would not slow her down from anything she was meant to do in her life. When she was four months old, she had a sedated ABR and was diagnosed with a severe/profound bilateral sensorineural hearing loss and was wearing hearing aids within a couple of weeks. We feel lucky that 17 years ago she was screened for hearing loss because it was standard practice in the NICU she was in.
We have never told Madeline that she "can't," "doesn't have to," or "shouldn't" do something because of her hearing loss.
Madeline's new "label" started a trail of teachers, nurses, speech therapists, audiologists and others to help her on her way. We have always been very grateful to the Birth to 3 providers, the school district's early childhood program and all the schools she attended that started her on her path of learning. She learned to "learn" and hasn't stopped since. We started with the idea of Total Communication but within the first year her speech took over her signing. As her parents, we generally followed what we were asked to do or even beyond that. However, there was a time when I just couldn't take her to speech therapy. When she was about 9 months old we took a nine month break because she just cried through the therapy and I felt it was more traumatizing than helpful. It didn't harm her as far as I can tell, and I felt that as her mother I knew what she needed at that time better than anyone.
She has learned to love school and loves the reward of achievement. She went through parochial elementary schools and switched to public at middle school level. She has had many different and many continuing friendships as most kids do. Madeline has shared that some kids didn't bother to get to know her because it wasn't as easy to be her friend compared to a hearing friend. She would focus on the friends who would take the time for real friendship, and has never felt a loss of companionship.
It seems to me that one area that she has difficulty in is sometimes with people who are coaching sports. When I would first introduce Madeline to a new coach and offer to explain her hearing loss they would just "pooh-pooh" my input and say "oh, she'll be fine." She does great, with the right support. So at times I would watch her not doing "fine" and feel the fire in my stomach and tension in my jaw. Madeline and I would usually think of some way to work it out with the coach. If nothing else worked, sometimes we would indulge ourselves in creating an imaginary scenario where we make that coach wish they had listened to us, or taken advice from us and then we have a laugh about it. And then if the same issue came up again, Madeline and I would meet eyes in a shared look and giggle like "if only they would listen to us/we told you so" kind of exchange. It is a sarcastic and definitely not a direct approach, so probably not the best way to handle difficult people. But, it worked for us with our sense of humor, didn't create new problems, and most importantly, taught both of us to pick our battles.
Now for the part that sounds like bragging. She has started her senior year at Chippewa Falls Senior High School. She is ranked number five of the ten number ones' in her class that have a 4.0 grade point average. During her high school career she has been awarded student of the month in both Science and History at least twice. She has had the highest math average for the quarter a few times. She is in Athena and the National Honor Society. This year she was chosen to represent "Chi High" at the Badger Girls State, which was a great honor since it is voted on by all the teachers in the school. She has competed on the varsity track and field team for three years and this year received the "Field Cardinal Award" which is chosen by the coaches and given to a team member who they feel shows great team spirit and are just a good team member all around. She was just chosen to be a Student Rotar for the month on November. I could go on, but I won't. What we believe and see: A hearing loss does not limit what a child can do, learn, accomplish, achieve in their life. We have never set limitations on Madeline and what she could accomplish because she has a hearing loss. She is a great girl with a fantastic attitude. I am excited to see her at her High School graduation next spring and to bask in the full list of her accomplishments in high school. She has been accepted to the University of Minnesota in Minneapolis and has applied to the University of Wisconsin – Madison. She would like to focus on a science/math program, possibly Biomedical Engineer or Chemical Engineer. Although I will be sad to see her high school career wrapping up, I am excited to see what her future accomplishments will include.