A Look Back with Dr. Christie Yoshinaga-Itano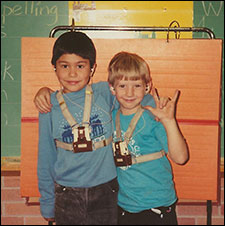 Nathan Hoagland and Armando Guzman using the old FM harness in 1989.
Photo courtesy of Susan Elliott.
This past April, our longtime supporter and H&V HQ Board member, Christine Yoshinaga-Itano, Ph.D. was awarded the Jerger Career Award for Research from the American Academy of Audiology at the Audiology Now! Conference in Anaheim, California.
We couldn't resist offering our readers a front row seat to Christie's generous reply to the congratulations of the H&V Headquarters Board and staff.
This award is equivalent to a Lifetime Academy Award. Only a select few distinguished audiologists making significant contributions to the field of audiology are eligible. Dr. Yoshinaga-Itano serves as the Professor of Audiology and Chair in the Department of Speech, Language and Hearing Sciences, faculty of the Institute of Cognitive Science, Center for Neurosciences at the University of Colorado, Boulder and the Department of Otolaryngology and Audiology at the University of Colorado, Denver, and the Marion Downs Hearing Center. For over thirty years she has conducted research in the areas of the language, speech, and social-emotional development of infants and children who are deaf or hard of hearing. Her research has added immeasurably to our body of practical knowledge about progressive hearing loss, the development of pragmatic language, and her wise instruction and mentoring have shaped many professionals in the field today.
In reply to all the kudos, Christie shared the following:
"Thanks so much – I had a whirlwind of a conference and it was a great time.
I can't believe how much has happened over the past 40 years. Laura Wilbur, who was on my dissertation committee at Northwestern University also received an award, and I saw audiologists back to the first year I taught at the University of Denver. What a group that was! Gus Mueller was in the PhD program, Patty McCarthy was in the PhD program, Alison Grimes was in the MA program and Carol Flexer was in the UG program.Jerry Northern and Marion Downs were working at the University of Colorado Hospital. Tympanometry was in clinical practice in Colorado because of Jerry's efforts. They were still a bit skeptical at Northwestern, wondering if it was going to become part of regular clinical practice. (The first American university course for audiologists was offered at Northwestern in 1946.) What was the world like when I started?
There was no ABR at that time.
We had no probe microphone; no Real Ear testing.
We could not test otoacoustic emissions (OAE).
Children were identified on average at about 4-5 years of age.
When I started in the field, almost all children at that time who were deaf or hard of hearing in the United States were educated through oral education. Sign language was just being introduced as an educational method.
Amplification was terrible. We had big boxes with leather harnesses for our profoundly deaf children – with NO compression in those aids. We hurt our own ears just checking the hearing aids then. Imagine how they worked for children.
Auditory trainers were big boxes--about half the size of a small table--and the children were tethered to these by wires and headphones. Imagine these little preschool-aged children tripping all over each other having to sit in front of this crazy box for a part of their day!
Marion Downs was doing some screening with a big fog horn like thing. It blasted the newborn babies with about 100 decibels. We looked to see if they moved or woke up.
The notion of home intervention was brand new and just beginning in the United States.
It really doesn't seem that long ago…
It is amazing how things have changed and so incredible to have been part of all these changes.
We have had amazing changes in technology, great changes in systems.
Deaf teachers of the deaf were discriminated against across the United States.
Now we have deaf and hard of hearing leaders supporting our early intervention and school-age children. We have more and more deaf and hard of hearing professionals in the field.
We have parent-to-parent support and parent leadership.
We have the ability to identify these babies in the first month of life. And their little brains just learn so quickly – especially in those first few years of life.
I feel so, so lucky to have been at the right place at the right time to have been part of this incredible revolution that has happened in our field and to have known so many incredible people and incredible kids and families who have helped to make this all happen.
See you soon, Christie"