Djenne-amal Morris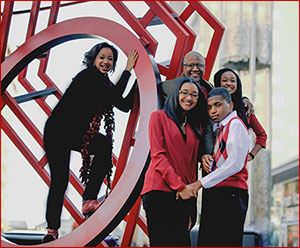 Djenne-amal Morris brings passion and real life experience to her role as parent/professional trainer, facilitator and motivational speaker whose view of the world not as it is, but as it could be. As a mother of an amazing son with CHARGE Syndrome she strives to build an atmosphere of support and empowerment for families of children with special needs and the professionals who serve them.
Growing up in New York City, she received her BA in Psychology/Sociology from Clark University in Worcester, Mass. Djenne married her high school sweetheart and they have three incredible children. Their daughter, Imani (20) is a Global Studies junior at Abilene Christian University in Texas and Zakiya-mali (14) a high school freshman. Malik (19) attends the Eastern North Carolina School for the Deaf.
Djenne has always shown an interest in family , interpersonal and cultural dynamics/collaboration. Fueling her passion for helping others, she worked in the full-time ministry, taught parent leadership seminars and worked in higher education in Boston. For 15 years she supported families in her role as Family Specialist for the New England and North Carolina Deaf-Blind Projects and currently works as a Parent Educator/Training Coordinator at BEGINNINGS for Parents of Children Who Are Deaf or Hard of Hearing in Raleigh NC. Djenne proudly serves as the Vice-President of the Board of Directors of Hands & Voices and as a member of the NC Governor's Council of the Deaf and Hard of Hearing, Eastern North Carolina School for the Deaf Advisory Council and Brooks Avenue Church of Christ Special Needs Ministry.
Eleven years ago, their family moved from Boston to Knightdale, North Carolina and are loving the weather! Her husband owns Morris Marketing and together they run a consulting business in which they provide individual, family, and professional coaching, support and training. Djenne loves reading, yoga, heart-to-heart talks and laughing with friends and family. Visitors are welcomed to her website; www.TodaywithDjenne.com.