Immediate Release
11/16/2020
New App Provides Daily Support for Families with Deaf and Hard of Hearing Children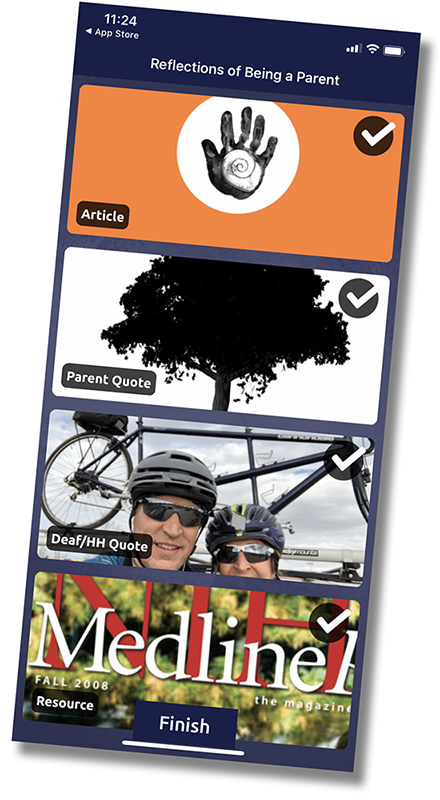 Boulder, CO— 11/16/2020 — Hands & Voices announced the release of The Hands & Voices Parent App, an app designed to provide daily support to families with Deaf and Hard of hearing children.
"This app was designed in collaboration with Deaf and Hard of hearing students from National Technical Institute of the Deaf at Rochester Institute of Technology," said Karen Putz, Co-Director of Deaf and Hard of Hearing Infusion at Hands & Voices. Putz worked with a team of students over the course of a year to develop an app that provides four key resources on a day by day basis. The team included Amanda Bui, Christine Maldonado, Quoc Nhan, Xiangyu Shi, and Harsh Mathur, under the supervision of Associate Professor Brian Trager.
Parents and caregivers of Deaf and Hard of hearing children who download the app receive a daily prompt with resources that provide a quote from a seasoned parent, a quote from a Deaf/Hard of hearing adult, an article to read, and a website/resource to explore.
"I wish I had an app like this when my daughter was first diagnosed," said Janet Des Georges, Executive Director of Hands & Voices. "I love that this app provides 90 days of wisdom from parents and Deaf and Hard of hearing adults as well as articles to read and websites and resources. The app is perfect for busy parents and they can literally use it for 60 seconds or 60 minutes in a day. For a parent or caregiver who is new to the journey of having a Deaf/Hard of hearing child, this daily app is a wonderful way to empower parents with the knowledge they need to navigate the journey with confidence."
Product Availability
The Hands & Voices Parent App is available to download at no cost via the Apple Store or Google Play.
###
Hands & Voices is a 501c3 non-profit organization dedicated to providing support without bias to families with Deaf and Hard of hearing children. We're a parent-driven, non-profit organization providing families with the resources, networks, and information they need to improve communication access and educational outcomes for their children. Our outreach activities, parent/professional collaboration, and advocacy efforts are focused on enabling DHH children to reach their highest potential.
For more information, press only:
PR Contact Name: Janet DesGeorges
Phone number: (303) 492-6283
Email: parentadvocate@handsandvoices.org
For more information on the organization:
Website: www.handsandvoices.org
 Here's what we have on the app site:
Parents of children who are newly identified as deaf or hard of hearing, welcome home! Hands & Voices Parent Support is designed especially for your needs as a parent navigating a new path with your child. Each day for 90 days, you'll receive 4 valuable tools:
Wisdom from experienced parents
Insight from adults who are deaf and hard of hearing (D/HH)
Articles related to raising your child who is (D/HH)
Resource/website to explore
Hands & Voices Parent Support provides insight from families and adults who are D/HH and strategies to help your child maximize their potential.
Hands & Voices is a non-profit, parent-driven organization dedicated to supporting families of children who are deaf or hard of hearing. We are non-biased about communication methodologies and believe that families can make the best choices for their child if they have access to good information and support. Our membership includes families who communicate manually and/or orally. From American Sign Language to cochlear implants, our organization represents people from all different approaches to, and experiences with, deafness or hearing loss. We have local chapters across the US, Canada, and beyond.
Your Hands & Voices family awaits you!