PARENT'S GUIDE TO DEAF AND HARD OF HEARING EARLY INTERVENTION RECOMMENDATIONS
A PARENT'S GUIDE TO DEAF AND HARD OF HEAR­ING EARLY INTERVENTION RECOMMENDATIONS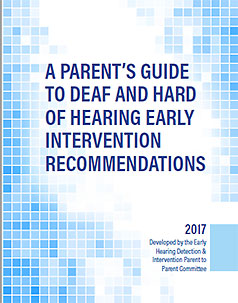 "How do we know if our child is receiving the right services?"
Many parents ask this question when they first get the news that their child is deaf or hard of hearing (D/HH) and are setting up needed services for the first time. We know because we, as parents, asked these same questions in the beginning of our own journeys. Caretakers just starting out need so much information. This document offers guidelines so that you and your child will receive the most appropriate services, no matter where you live.
In 2013, the Joint Committee on Infant Hearing (JCIH) created twelve goals to supplement the Early Intervention Recommendations outlined in their initial 2007 statement. The Supplement* defines quality early intervention and how you can better recognize recommended practices in the services provided to your child.
The national Early Hearing Detection and Intervention (EHDI) Parent to Parent Committee developed this guide to communicate directly with parents. You can use this Guide to understand what you have the right to expect in Early Intervention.
About this Guide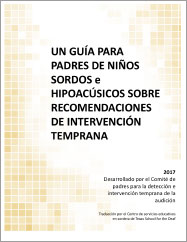 This Parent's Guide was developed by the Early Hearing Detection and Intervention (EHDI) Parent to Parent Committee, which is made up of parents of children who are deaf or hard of hearing as well as a diverse group of professionals who support families in EI and beyond.
Link to Guide
Now available in Spanish (Thanks to the Texas School for the Deaf for this translation)
Now available in Persion (Farsi). Thanks to FCEI Iran for this translation.
Link to Guide in Farsi
*About the Supplement to the JCIH 2007 Position Statement: Principles and Guidelines for Early Intervention after Confirmation That a Child Is Deaf or Hard of Hearing
This Early Intervention (EI) services document was drafted by teams of professionals with extensive expertise in EI programs for children who are deaf or hard of hearing and their families. The team used literature searches, existing systematic reviews, and recent professional consensus statements to develop a set of guidelines. These comprehensive guidelines help EHDI programs establish strong Early Intervention systems with expertise to meet the needs of children who are deaf or hard of hearing. For the infant or young child who is D/HH to reach his or her full potential, families and professionals must work together quickly to build carefully designed individualized intervention in a family's home and community. This includes engaging service providers with optimal knowledge and skill levels that fit the diverse needs of this population.
The Supplement to the JCIH 2007 Position Statement: Principles and Guidelines for Early Intervention after Confirmation That a Child Is Deaf or Hard of Hearing can be found here: http://pediatrics.aappublications.org/content/131/4/e1324
For more information and/or support utilizing this guide, please contact your H&V chapter (click on map on front page of our website) or contact parentadvocate@handsandvoices.org