Ad Sizes and Rates for the Communicator
Reach over 15,000 parents, educators, and other professionals involved in Deaf Education and parent support with each issue.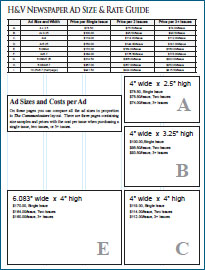 The Communicator: where our growing number of subscribers receive current information on deaf education, parent to parent support, communication, technology, resources, Deaf Plus, newborn hearing screening and so much more. Article topics include advocacy in the trenches, perspectives on research, teaching social skills, how to keep children safe, transitioning, and personal stories from parents, professionals, and perspectives from Deaf or hard of hearing adults.
Join our growing conversation across the world and earn a wider exposure for your program or product through advertising in The Communicator.
Ad Rates and Specifications:
Ad Size
(width x height)
Price per
Single issue
Price/issue-
2 issues
Price/issue-
3+ issues
A.
4 x 2.5
$78.50
$75.50/issue
$73.79/issue
B.
4x 3.25
$100.00
$95.50/issue
$94.00/issue
C.
4x4
$119.00
$114.00/issue
$110.92/issue
D.
4x5.25
$150.00
$144.00/issue
$141.00/issue
E.
6.083x4
$170.00
$164.00/issue
$159.80/issue
F.
4x6.7
$184.00
$176.50/issue
$172.96/issue
G.
6.083x5.25
$214.50
$206.00/issue
$202.10/issue
H.
6.083x6.7
$267.00
$257.00/issue
$250.98/issue
I.
10.25x6.7
(half page)
$441.50
$424.00/issue
$413.60/issue
How to Submit - PDF's or EPS only. If you have any questions feel free to e-mail Joe at jdg3@sprynet.com.
Guidelines
How to Submit – Please submit ads for approval before sending payment. Send queries or sized PDF's to ads@handsandvoices.org for approval.
What are the Deadlines?
Final ad should be sent on or prior to copy deadlines of January 15, April 15, August 15 and November 15 for the issue arriving about six weeks later.
Please include the sized pdf, a cover letter referencing size of ad, number of issues desired, and deadline date intended.
Payment: Payment is due on approval for all ads. Payments (including purchase orders) can be made online after ads are approved. Checks may be mailed to Hands & Voices.
Is your ad approved? Make your payment online here.