Audiologists Screening for
Bullying Problems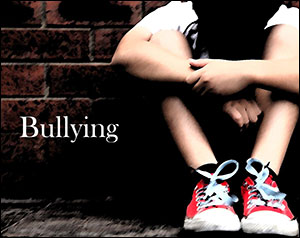 Bullying has become a topic receiving national attention. The Center for Disease Control and Prevention (CDC) indicates that in the US, one in three children reports being bullied, and that children who have disabilities are up to 75% more likely to be bullied than children with no disabilities. The 2011 White House Summit on Bullying stressed in no uncertain terms that bullying is not a "rite of passage," and must be recognized as a public health and safety issue. However, children often choose not to tell adults when they are being bullied, usually confusing "telling" with "tattling." They may also be embarrassed to acknowledge that other children don't like them or that they can't stop the bullying themselves, or worry that adults will make the situation worse.
The Role of Health Care Professionals
To discuss this sensitive topic and "help kids tell," pediatricians and other health care professionals have developed protocols to screen for bullying problems and, to the extent possible, provide prevention support to help children feel safe, secure, and empowered. When it comes to children with hearing loss, what is the role of the audiologist? Should we also screen for bullying problems as a standard of care? Do we have a role in intervention and prevention as well as screening?
Last year, a group of pediatric audiologists (listed at the end of this article) began discussing these questions in depth. Although problems with bullying were already on our radar, our attention elevated to red alert when we learned the tragic news that a fellow audiologist had just lost a daughter to suicide as a consequence of bullying. After shock and heartache, one feels the need to do something, especially when one's career has been dedicated to children. We eventually concurred that while we can't protect all children, we do have an opportunity and an obligation to protect children who have hearing loss as best as we can. We also knew we needed guidance from parents, so we asked two leaders from Hands & Voices (Sara Kennedy and Chresta Brinkman) for their help. They said YES, so – we got busy as the newly formed Friends of the Desmond Family.
Proposing a Screening Protocol
Recently, we shared our work to date at the 2013 AudiologyNOW! convention. The main topics included results of a September 2012 survey, a proposed screening protocol, and suggested IEP goals.
Results of a survey of existing practices. We learned from approximately 300 respondents that, unlike school-based audiologists, clinical audiologists usually do not have guidelines on responding to bullying problems at their work setting. More importantly, only 3% of the respondents actively screened for bullying concerns. The majority of respondents (88%) agreed there was a need for guidance to "help kids tell." The need to develop a screening protocol was quite apparent.
A proposed protocol and sample dialogues. Audiologists will want to know: how to best prepare ourselves for this new conversation? How to approach the topic, respond if a child or parent indicates a problem, give pro-active help if the child or family indicates no problem at this time? A "decision-making" tree for each of these scenarios was shared, as well as examples of how to respond to different questions or comments.
Suggested IEP goals, drawn from Hands & Voices and pacer.org. These included improving social/friendship skills (sharing, taking turns, learning social norms), and self-advocacy skills (identifying bullying and knowing how to report it; explaining the difference between "telling" and "tattling;" being able to say "no" or "stop that," and using a signal system when in need of friend or adult intervention).
Approximately 120 audiologists attended the session, and about 40 stayed after the session for another 30 minutes to talk with the presenters. The intense concern in the room was palpable and appreciated. From audience input, many ideas for "next steps" developed, and we are prioritizing these now. In the near future, the materials we develop will be available on a website hosted by the American Academy of Audiology, and we appreciate Academy board member Eileen Rall for her support as our liaison.
Much Work Ahead
Our hope is that every audiologist will accept the responsibility to screen for bullying concerns. However, if we accept this responsibility, we must be ready for the possibility that a child might disclose great distress, even suicide risk. In fact, we may be the first to learn about this risk, especially if no one had provided the opportunity to talk about serious things. To do this right, we have to be ready for all consequences, including this one.
We also have to acknowledge that children with hearing loss may themselves bully other children, for a variety of reasons: as a way to feel some degree of power when feeling powerless; to redirect a bully's attention away from themselves; as a maladaptive coping strategy, etc. And it seems all children witness bullying and feel powerless to stop it – but there are strategies to help the bystander intervention effectively. Children often are not instinctively empathetic, but they can be taught empathy; children often don't understand personal power but they can be taught how to stand up for others.
During our discussions this past year, we found it important to routinely remind ourselves that "we are not social workers," which kept us focused on what we can do. We can ask a child about safety and friends and bullies – but not until we have a wealth of resources available to share with families. A "tool kit" of resources must be developed, and a call for more volunteers will be issued soon. For now, we thank everyone who provided input via our September 2012 survey, and to the Educational Audiology Association for disseminating it to its members.
Friends of the Desmond Family: Jim Beauchamp, AuD, Tulare Office of Education (CA); Chresta Brinkman, Colorado Hands & Voices; Kris English, University of Akron; Carol Flexer, University of Akron; Alison Grimes, UCLA Medical Center; Cheryl DeConde Johnson, ADEvantage Consulting; Sara Kennedy, Colorado and Hands & Voices HQ; Jane Madell, Pediatric Audiologic Consulting; Carrie Spangler, Stark Co. Education Service Center (OH); Mike Squires, AuD student, University of Akron, Christie Yoshinaga-ltano, University of Colorado Boulder.
Helpful links: