What Parents Say About Their Understanding of EHDI programs and Early Intervention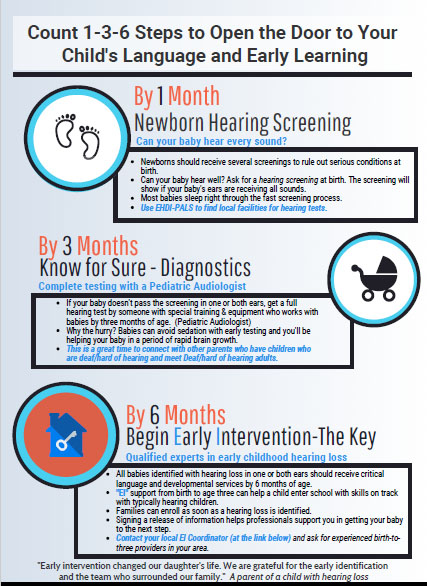 This information outlines the importance of the 1-3-6 Early Hearing Detection and Intervention (EHDI) steps and knowing whether or not children can hear by screening by 1 month, diagnosis by 3 months and enrollment in Early Intervention (EI) by 6 months. An Infographic was created to highlight each part of the 1-3-6 steps including links to important resources. In addition, Hands & Voices conducted a survey that gathered parent and caregiver feedback for children ages 0-5 that have been identified with a permanent hearing loss and their awareness of EHDI programs and enrollment into EI.
[ Download 1-3-6 EHDI Family Survey ]
The development of the infographic was supported by funding from the U.S. Centers for Disease Control and Prevention (CDC). Its contents are solely the responsibility of the authors and do not necessarily represent the official views of CDC or the Department of Health and Human Services.