".I Can See the Future"
Many parents ask the question, "What will the future hold for my child who is Deaf or Hard of Hearing?" I had great fears around this issue when my child was identified with hearing loss. Over the years, my fears on this subject have been greatly put at ease due to the input of the Deaf and Hard of Hearing Adults I have had the opportunity to meet. To see and talk with adults who are happy, healthy, contributing members of society has helped to set a vision in my heart concerning my daughter who is hard of hearing. I also want my daughter to have the opportunity to be exposed to adults who are deaf and hard of hearing who can be role models for her. This past year she had the opportunity to have a role model visit her and her classmates in the mainstream classroom. Ann Pruitt, an adult who is hard of hearing, has a hearing dog, and has been a good friend to our family, went and visited our daughter's classroom to share with the kids what her life is like. The kids had a great time visiting with her, and I know the experience really enhanced my daughter's self esteem.
The Deaf/Hard of Hearing Adult Role Model Program is available statewide. They have a variety of individuals who are deaf or hard of hearing, speaking and/or signing to adapt to the needs of any student.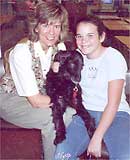 Ann, Sara, and Curly Sue at
Creekside Elementary School
in Boulder, Colorado