Transition to College: Let People Know What is Needed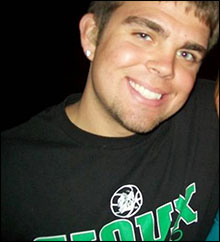 Matthew Sayler
Being Deaf did not stop me from attending a big university such as North Dakota State University. It was a big adjustment for me to attend college once I left Devils Lake High School. My high school classes were small and interpreters were provided for me by the North Dakota School for the Deaf. I was often given the notes from my teachers to assist with understanding of the class lecture. I just needed to show up and attend to the interpreter to gather the information for each class.
When I was a senior, we opened my case with the Division of Vocational Rehabilitation. My consultant and my family developed a plan for college and they helped pay for the tuition and the supplies that were needed for college such as a printer, laptop, hearing aids, etc. I met with my consultant a couple times per year to review my plan. I could contact her by email anytime with questions or concerns. This was a great benefit for me.
Growing up in Devils Lake, most of my classmates were familiar with students from the School for the Deaf. I was mainstreamed throughout most of my elementary through high school years. I participated in football, basketball, baseball, and track over the years. Interpreters were provided full-time for all extra-curricular activities. There were a lot of challenges that I was faced with, but I never gave up and my deafness did not interfere with my abilities in sports.
Once I started attending Lake Region College in Devils Lake, most of the professors were familiar with deaf students so I did not have many challenges to get services for myself. When I transferred to Bismarck State College, it had been many years since there had been any deaf students there, so I had to share a lot of information regarding accommodations needed in each class. I went with my interpreter, Renae Bitner, to talk with all teachers to let them know of my requirements for getting the class notes, arranging the interpreter, how to work with her in the classroom, and making sure all videos were closed captioned. I had many more responsibilities to advocate for myself at BSC. If I did not accomplish these responsibilities, I would not be successful in my college career. Many of the students at BSC had never been around deaf students, so for a few months, it was tough for me to make friends. But I did not give up and forced myself to meet people and socialize.
After getting my AAS degree from BSC, I entered the work force and began working for Bartlett West in Bismarck as a surveyor for eight months. Initially, there were many communication difficulties because the workers were again not familiar with deafness. I felt that I missed information that was necessary to complete my work. After working with them for months, communication improved. When I left the job to return to college in Fargo, most of the challenges we had were not a concern. Once again, it reminded me that all deaf people are different. I was able to talk with co-workers, but many times I missed conversations in different settings like driving in the truck, in meetings, and during weekly plans.
In January, I began college life again, to pursue my Bachelor's Degree in Natural Resource Management. I had to meet with staff from Disabilities Services and I informed them of the accommodations that I needed for each class. They contacted the professors, hired an interpreter, and this transition has gone smoothly. Being deaf should not stop you from achieving your goals in anything!