Smoothing the Way for Your Child's Participation in Sports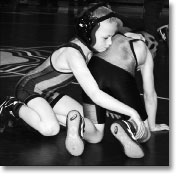 As parents we always want our kids to try many of the things we grew up enjoying, whether that be sports, art, musical instruments, or clubs. I know of many children who have successfully taken swimming lessons, scuba lessons, and of course basketball, baseball, ballet and gymnastics with one variation on the usual sport routine or another. The Deaflympics program should be enough to show any coach that full participation of a deaf/hard of hearing child is possible on any team. The ADA states that reasonable accommodations should be given even if an organization does not receive government funding; if the community pool or parks and recreation program is funded through the government, than even stricter rules apply in regard to providing equal access.
My husband and his brothers all wrestled in high school, while I came from a basketball family, knowing nothing about wrestling. Our son, Ruger, loves football, basketball, soccer and baseball. Since wrestling requires headgear and a lot of contact, Ruger wasn't too sure he wanted to try it. He didn't know if he would be able to wear his implant processors and hates going without them. After hearing that there was a wrestler at the University of Wyoming who had an implant and watching one practice of our local kids wrestling club, Ruger decided he wanted to give it a try.
I emailed around trying to find someone who might know of someone else with implants wrestling to see if there was a certain headgear that worked to keep the implants on, or any ideas to make it easier. We had no luck getting any ideas, so just went with our own game plan. We bought some adult size headgear, the bigger size was big enough to protect the implant and in actual matches he would wear just one implant. Oftentimes the headpiece would get knocked off and Ruger would be working hard to get it back on around the headgear. He found this very distracting not to mention annoying. So by the end of the season we started taping the magnet portion of the implant to his head. It worked well and was much less distracting for him, although it is admittedly no fun getting the tape removed from his head. We also found that we had to tell the official that he had hearing loss and would most likely not hear the whistle so they would need to tap his shoulder instead.
Ruger's implants have also led us to talk to people that otherwise we wouldn't have had the opportunity to meet. Often at the end of a match, Ruger would take off his headgear, and someone watching would comment about how awesome they thought it was that he wrestled, or their cousin, neighbor's child, aunt, or other relative had hearing aids or a cochlear implant. We learned that one opponent's uncle had wrestled with hearing aids during high school. Others would just ask what it was and how it worked and I am all for sharing my gained knowledge with others.
As with basketball, baseball, tumbling and even ATV riding we have learned that accommodations can be made to make things easier for everyone. Ruger is not my only child with hearing loss, his younger sister Kassidy was also born deaf. Many times in various activities the implants would fall off, and someone suggested the UnderArmour Skull Wraps. These wraps are a 3 inch headband made of thin material. They wear them and their equipment doesn't fall off. Also, it helps keep the implants in place under helmets, which sure beats the time Kassidy's fell out from under her ATV helmet and we were 2 miles down the road before she told us it was gone. Luckily Dad found it!
Ruger had a good season and learned a lot. He may never be an Olympic wrestler, but he enjoyed the year and placed 4th in several tournaments. Our kids with hearing loss can be involved with just about anything. Children can learn from our example that sometimes we have to adjust things a little or speak up on their behalf to get new ways of making sports and other activities work for them. Eventually, Ruger will be on his own and advocating for himself. We wanted him to see that it does take some extra thought and teamwork sometimes, but it can work. We would love to see more ideas for wrestling and other sports shared in The Communicator. ~