Deaf/hard of Hearing Plus
Problem-Solving
A Family's Perspective on Deaf-Blindness
By Rita and Nate Fredericks
Rita and Nate Fredericks live and work in Des Moines, Iowa with their two sons. Liam, age nine, loves to ride his bike, read, and swim and Miles, his little brother, is a happy four-year-old who loves to cuddle, swing, and swim, too. Miles is deaf-blind as a result of a rare, randomly occurring genetic mutation called CDKL5. In Miles, the condition has caused intractable epilepsy, cortical visual impairment, cortical hearing impairment, low muscle tone, and physical and cognitive delays. They have learned a thing or two about resilience and including Miles fully in family life along the way.
Long Road to a Diagnosis of Deaf-Blindness
When Miles was 15 weeks old, doctors told Rita and Nate that their son would have limited vision and hearing due to seizures and his genetic mutation, but that both vision and hearing might improve if the seizures were controlled. While Miles passed all screenings and an ABR shows typical responses, he also does not startle, turn to noise, or show any response to sounds in or out of objective testing. When Miles was just 17 months old, he was diagnosed with Cortical Hearing Impairment (CHI) through testing at the University of Iowa. This diagnosis meant he wasn't eligible for deaf/hard of hearing (D/HH) services because eligibility guidelines at the time in Iowa didn't include this particular kind of deafness in the criteria. Miles' specialists have explored current technology and have determined the options would not assist him in hearing.
Iowa's early intervention team was able to help Miles by providing services from a teacher of the visually impaired (TVI), a special educator, an occupational therapist, a physical therapist, and a speech and language pathologist. Even with this early intervention support, however, Rita and Nate were concerned that Miles was functioning like a deaf toddler, with limited access to auditory information, and worried that his development would be affected without specialized deaf education services. They remembered the story of Helen Keller who first learned the sign for water by touching a water stream. The Fredericks team started using tactile cues and paired objects with signs. Determined to work together to support Miles as he grew, they kept advocating for appropriate services. Before he was 19 months old, their advocacy was successful and a teacher of the deaf/hard of hearing (TOD) joined the team.
Connection and Impact of the Iowa Deafblind Services Project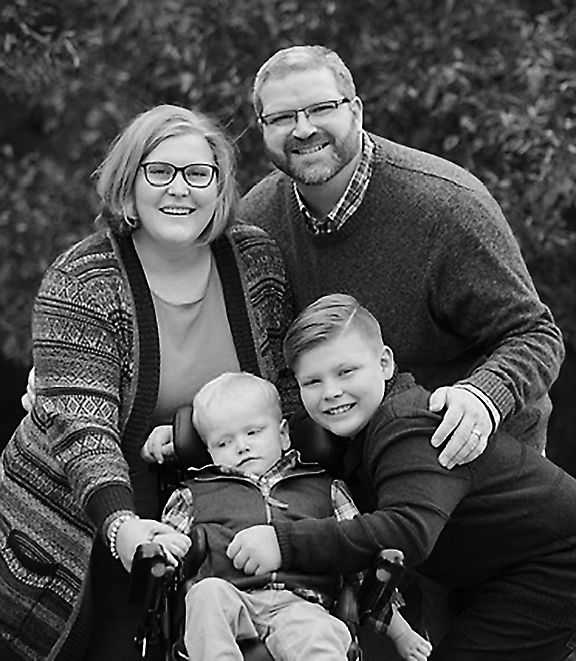 One of the first supports the new TOD recommended was the Iowa Deafblind Services Project Registry. An advantage of adding Miles to the registry was connecting the whole team to more strategies and support. Rita notes that once Miles joined the registry, "information from the deaf-blind project came through, including types of assessment, newsletters, family information, and events. New connections to better, more specific resources opened up."  
Rita and Nate realized that they were not the only ones who had a child with deaf-blindness with complex needs. As Rita says, "It's hard to hear people say that your kid is so unique. Just as the project gave providers more support, they found that support, too. We were NOT alone." Rita and Nate also found that the Iowa Deafblind Services Project made a difference in collaboration with the professionals in their lives. Project personnel helped coordinate services from the many providers so they could communicate and brainstorm together and provide consistent interventions to support Miles and his family. Rita remembers, "We had always been worried about helping him understand his routine and what would be next: bathing or feeding, dressing or therapies? Our team has received tremendous amounts of help with this question."
What We Have Learned So Far
Every family experiences circumstances and challenges specific to their own child and environment. While the Fredericks understand this, they shared some thoughts that other families may find useful on their own journeys:
Don't treat children who are deaf-blind as if they "can't."
Presume competence and don't give up! For example, we weren't sure if Miles would enjoy movies, but we kept offering hearing and vision and other stimulation to Miles. Now we know that he perceives light on the screen with the rest of theater in darkness, and he loves the recliner chairs, feeling the sound and music through vibration. He gives us direct positive feedback through the way he moves and giggles. His team created tactile kits for each story-time at school so he could participate more meaningfully.
Don't hesitate to talk about the ugly parts of the process and make hard decisions.  We decided not to hide from or avoid the "down" times while learning alongside Miles and his team. We have struggled with everything from feeding therapy to finances, from our mental health and Liam's to scheduling nightmares. We always find that sharing our struggle and having critical conversations helps us move forward. Miles lives in a family and his needs are a family affair. We work through it to continue to thrive.
Providers who work with and for your child should be willing to explore additional options while keeping the health and development of your child and family a priority. We look for therapists and doctors who see us as valued partners and refer to others when needed. Some of the best learning has come from nontypical approaches like hippotherapy (work with horses) aquatic therapy (in the pool) and the Masgutova Neurosensorimotor Reflect integration (MNRI) method. Living close to pediatric centers has been a huge plus.
Think outside of the box! Find a way to add sensory information to the things your family loves to do. We analyze what doesn't work and do more of what works. For trampoline parks, Miles can use his wheelchair on the trampoline (with permission) and we can jump alongside him giving him the vestibular input and fun, too, instead of sitting on the sidelines with Miles while Liam jumps alone. A net swing hooked up to the non-accessible playground swing closer to home makes it a win for all. Miles loves to go to the zoo for the different smells and sensations, which differs from our front porch in a gentle rain. Pumpkin farm? Bring it to your house, sitting on the grass and touching/smelling autumn leaves, corn cobs and sticks. Engaging all of senses is important to adapting typical family and peer outings to Miles' needs and makes family time that much better. When Miles was just 15 weeks old, Liam said that he knew why Miles was in our family. "It's because we are problem-solvers, mom." Funny how some things no longer seem like problems.  ~
Editor's note: Rita is now the Family Engagement Coordinator for the Iowa Deafblind Services Project. Emma Nelson, MS.Ed., the Early Identification and Intervention Initiative Lead at the National Center on Deaf-Blindness (NCDB) assisted with this article. Thank you to the NCDB for spotlighting this family story.
The Communicator welcomes parents and professionals to submit articles on any aspect of D/HH Plus. Help us unwrap the gift by sending to editor@handsandvoices.org.
How many children are deaf-blind in the U.S.?

By Emma Nelson, National Center on Deaf-Blindness

According to the National Child Count of Children and Youth Who Are Deaf-Blind, there are approximately 10,000 children in the U.S., ages birth through 21, who are deaf-blind. Begun in 1986 on behalf of the U.S. Department of Education, the "National Count" represents a collaborative effort between the National Center on Deaf-Blindness (NCDB) and state deaf-blind projects throughout the country, as well as the Pacific Trust territories, the Virgin Islands, and Puerto Rico. NCDB is funded by the U.S. Department of Education's Office of Special Education Programs. Its primary mission is to support state deaf-blind projects as they assist educators, agencies, and organizations to acquire the knowledge and skills needed to help children with deaf-blindness learn, access the general education curriculum, and successfully transition to adult life.
As a low-incidence disability, deaf-blindness also has great variability within this population of children. 87% of children who are identified as deaf-blind have additional physical, medical, or cognitive disabilities. Although the term deaf-blind implies a complete absence of hearing and sight, it refers to children with varying degrees of vision and hearing loss. Because deaf-blindness limits access to auditory and visual information, children who are deaf-blind require educational services individualized to their own learning styles and abilities.
Helpful websites related to deaf-blindness mentioned in this article: