D/HH Plus Column
Learning from Evan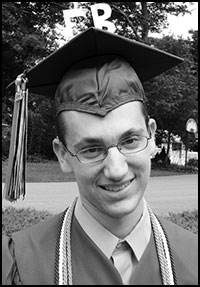 Evan
Ellen: I had been a teacher of the deaf for 19 years and had been working as a Birth to Three Parent Advisor for The American School for the Deaf for nine years when I first met Evan and his family. My supervisor called me to ask if I was willing to drive a bit out of my usual geographical area because a family had asked for me by name. Since they had found out my name, I assumed that the family was interested in Auditory-Verbal Therapy because, at the time, I was an aspiring Auditory-Verbal Therapist being mentored by the staff at the Helen Beebe Center in Easton, PA. I wanted more opportunities to practice my Auditory-Verbal skills so I accepted at once, even though it meant driving almost an hour to make home visits.
Lesson: Don't make assumptions.
Cheryl: These were words that filled us with relief. "Take him home and forget everything that has happened; he's a normal healthy little boy." After the premature delivery of our son, Evan, his near death and his NBICU experience, we couldn't believe our luck. But all too quickly we started questioning our son's responses. At four months we asked the doctor about his hearing, but were assured it was just an ear infection. We commented that he was clearly right-handed, but were told dominance was never established so young. Indeed, we were nervous parents.
Lesson: Trust your instinct.
Cheryl : By six months we became insistent, and by seven months we knew. Evan was diagnosed with a profound bilateral hearing loss and cerebral palsy.
Lesson: Become insistent.
Cheryl: We didn't stop to grieve then; that came later. Instead we went into high gear. I called every name I could find connected with the field of deafness, read books, and visited programs for the deaf.
Lesson: Allow that grief may present itself in many forms.
Cheryl: At the start of our search for answers, I was sure I'd have to polish up my signing skills. I felt lucky that I had actually taken a sign class in high school (albeit many years ago). We registered for a sign class and brought Evan's grandparents along. At the same time, we became intrigued by cueing and enrolled in a class. Simultaneously, we visited the CREC Soundbridge program, American School for the Deaf, Clark Schools for Hearing and Speech , enrolled in the John Tracy Correspondence Course, and met with an Auditory Verbal Therapist.
Lesson: Search out information.
Cheryl: Overwhelming--definitely! Confusing--absolutely! Each day we thought a different approach was better than the other. We had too many choices. Not only did we have internal struggles, but we also began to feel pressure from others. Each person who had an allegiance to a given philosophy tried to help us understand why their way was the best. They were all convincing and yet we had to make a choice.
Lesson: Time is of the essence.
Cheryl: In our hearts we believed that whatever approach we chose, we could make it work. We believed that as parents we needed to go with our gut when making this choice as it is a very personal decision. But we also knew that we had to monitor our choice. If progress wasn't being made then reevaluation had to be considered.
Lesson: Go with your gut, but be ready to reevaluate.
Ellen: During this emotional beginning period of early intervention, the focus of our home visits was on understanding the roles of various professionals associated with hearing loss and understanding what many of the terms that are used really meant to Evan's daily routines and overall development. Although Evan had been seen by a well-known local audiologist for diagnosis and initial hearing aid fitting, that audiologist saw very few children or babies in his daily practice. The pediatric audiologist who saw Evan as part of his birth to three team interpreted the ABR results differently and dispensed different hearing aids to Evan than the previous audiologist had. She felt that Evan had more useable hearing than his family had previously been led to believe. She also recommended a more frequent schedule of audiological monitoring than had previously been recommended.
Lesson: Babies and children have different needs than adults. Whenever possible find pediatric providers—those who specialize in working with children.
Cheryl: When Evan was 11 months old I had to accept that I could no longer stay home with him. We found an excellent day care where Evan could be one of the gang surrounded by wonderful language models. His speech therapist, physical therapist, occupational therapist, and Auditory-Verbal Therapist went to his day care facility for some of their visits to help make it a language rich and physically appropriate environment.
Ellen: Evan's schedule of services provided for routine team meetings and opportunities for co-treatment home visits. We all learned creative and fun ways to integrate techniques learned from different disciplines into activities that could be modeled for Evan's parents to use throughout his daily routines. An added dimension to working with Evan as a close-knit team was that if one team member was not at "the top of her game" at some point the other team members could step up and fill in. Eventually Evan's parents became the team leaders. Their energy propelled us all forward.
Lesson: The power of team work is not just in the improved services to the family and child but the added support for all the team members.
Cheryl: When Evan turned three we advocated for him to be included in a private nursery school with continued AVT, speech, and physical therapy services.
Lesson: Expect parents to become the primary advocates for their children.
We are still learning lessons from Evan.
---
The Communicator welcomes parents and professionals to submit articles on any aspect of D/HH Plus and help us unwrap the gift. Please contact column editor Candace Lindow-Davies at candaced@lifetrackresources.org or to editor@handsandvoices.org.