Need Family-to-Family Support?
Whether your child was just identified with a hearing loss, or you are just going through the testing, or you are a seasoned parent just looking for support & information to help your child thrive, welcome!
The Family Leadership in Language and Learning Project of Hands & Voices is here to support your journey.  We want to connect you with direct family-to-family support in your area.  Please see listing below for the family leader or family based organization in your state/territory.
For Family to Family Support Programs/Resources in your state or Territories, explore:
A listing of state/territory level family-based organizations and family leaders partnering with their EHDI Program
The Hands & Voices Military Project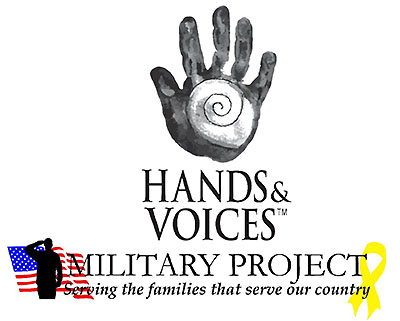 The Hands & Voices Military Project
believes that together through awareness, collaboration, and support, we can aide in the timely support for active duty and retired armed forces families raising children who are deaf or hard of hearing.  The project aims to connect your family to your local Hands & Voices Chapter to help you feel prepared to navigate through each new duty station. The hope is parents will find more ease in transitioning the medical and educational homes for their children with this connection. There is also a growing support group on Facebook, specifically for military families with children with hearing loss:
Hands & Voices: Military Family Support
.
Below are some resources that may support your journey:
Experience with Teletherapy from a Mom That Has Been There and Done That
If you are considering and/or receiving teletherapy, get some insights and tips from this mom by watching this short video.
In English & Spanish
Explore the other sections of this FL3 website section for resources on Language, Literacy, and Social Emotional growth of your child.