Family-to-Family Support
"Hands & Voices has been a lifeline. My Parent Guide is awesome – supportive, knowledgeable, and so helpful with resources. You gave us hope and support that we needed and that had been looking for a long time. Thank you!" - a parent who received support from the H&V Guide By Your Side program.
(learn more here: http://www.handsandvoices.org/gbys/index.htm )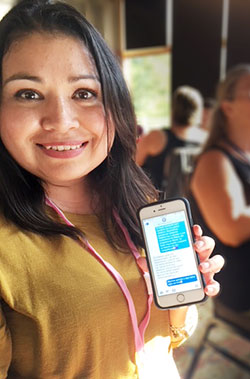 Every family with a child who is Deaf or Hard of Hearing has a different and valuable story to tell, while sharing a special common bond with other families. Parents who are just beginning the journey can be supported and learn from parents with lived experiences of the joys and challenges of raising a child who is deaf or hard of hearing. There is something incredibly unique and important in receiving support from other parents and families who have children that are deaf or hard of hearing and have "been there."
Because of the low incidence of hearing loss, families of children who are deaf or hard of hearing often feel isolated from each other and do not typically have support opportunities in their already-established community. Meaningful parent-to-parent or family-to-family contact includes the following:
• A way to share information.
• A safe place to brainstorm and express feelings.
• A place to validate feelings.
• An increased sense of confidence and empowerment.
• An increased acceptance of the situation and hope for the future.
• An increased capacity to cope.
• A means of learning practical parenting skills.
Whether parents/family members have the opportunity to speak one-on-one, chat online, or attend support groups or other activities, communicating with other parents and families is a valuable component of the circle of support. National organizations, such as Hands & Voices (and the Hands & Voices Guide by Your Side Program), Alexander Graham Bell Association, Family Voices, and American Society for Deaf Children have models for providing parent-to-parent support. Support models range from formalized programs—where trained parents embedded in the system provide systematic, knowledgeable support—to the informal matching of families in a given community by professionals who know other families with a similar story. The most successful models of parent-to-parent support are programs that are parent-led and driven. Parent to parent support has an important role in helping parents new to the journey of raising a child who is Deaf or Hard of Hearing navigate a system that is new and unfamiliar to them and find their way in supporting their child in reaching their full potential.
Explore the other sections of this FL3 website section for resources on Language, Literacy, and Social Emotional growth of your child.