Current Research & Data
Have you ever wondered how a hearing aid is giving support to your infant? (even before they can tell you how it is working/helping)
Do you understand the implications of how much you speak to your child every day and its impact on language development for your child who is Deaf/Hard of Hearing?
Do you know how to use the assessments that your Early Intervention Provider uses to track your child's progress can be used to help your decision making in communication and language outcomes?
What does the field know about the use of utilizing visual sign systems to develop language and literacy in young children who are Deaf/Hard of Hearing?
Do you know how to respond when someone uses 'research findings' to support their own bias about how they think you should raise your child who is Deaf/Hard of Hearing?
These are some of the questions being answered by researchers in today's world, and are included in information contained here and/or links to to other sites. This page will help you to think about research from a parent's perspective, and to help you as a parent understand why research is important, how to navigate and use information from this website, and to help inform you of how clinical practice is molded and shaped based on research.
How can parents use research findings to understand the needs of Deaf/Hard of Hearing children? What should a parent do when somebody uses 'research' to support a particular decision?  Should research findings be the only thing a parent considers in language and communication choices?
As "scientifically-based instructional practices" that have some evidence in research as being effective and replicable become more and more the standard by which early intervention for D/HH children should be applied, it is important for families to understand which research findings may apply to their particular child. Families use a variety of information to guide their decisions for their own child.  These include findings from research, but also subjective 'gut instincts', parental preference, child preference, and available resources in a community.
Research findings can help a parent a sift through options in communication and language development, not only for their own knowledge base to make decisions, but also to know how to respond to professionals who at times try and coerce parents into decision making based on one research finding that shows one particular aspect of development for children who are deaf/hh. A quote oftentimes used regarding research is a good one to remember:
Language Development in Children Who are Deaf:  A Research Synthesis (2001). In an analysis of 181 Research studies (or so)…
"…the most frustrating finding concerning language development of children who are deaf is the fact that the researchers have not yet found THE approach that supports development across the domains of social functioning, educational achievement, and literacy.  A single such approach is unlikely…."
Research findings are very valuable in finding evidence for decision making beyond people's opinions, and yet, at the end of the day, it is a parent's right and responsibility to make decisions for their child in context to a lot of information as shown in the chart below.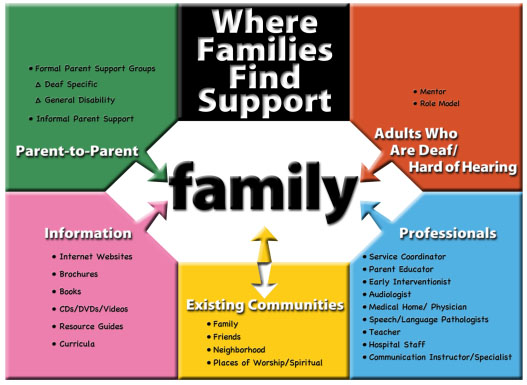 How does the family benefit from participating in research and assessments to help individualize the intervention you child needs?
Research often results in assessment tools that interventionists may use with families to assess a child's progress.  This information is invaluable in looking at the objective progress in the areas of development for the child.
One Family has to say about the Assessments: "I have three children; my middle child and youngest child are hearing impaired. Both children had their first assessments at three months of age and have been regularly assessed since. The assessments are a valuable tool. They help me to have an objective view of how my children are doing and how I am doing. The assessments show in what areas my children are doing well, and in what areas my children need work. When the assessments come back, my children's service providers and I are able to update our goals and decide if we need to change our plan of action. The assessments are a good motivation for me. If the results aren't as good as I would like, I'm motivated to work harder because I know my children are capable of doing better, but they need my help. If the results are as good as I expected, I'm motivated because it's so rewarding to see how good intervention pays off. If a fundamental part of language acquisition is missed early on, it will have life long consequences. The assessments help to make sure our team isn't missing anything." – Jeannene Evenstad
What are best practices as we understand them today in the world of newborn hearing screening, identification, diagnostics and early intervention? Informed parents are in a stronger position to make decisions for a growing child. Explore the latest research findings to discover information on important topics for the family journey on raising a child who is deaf or hard of hearing.