National Needs Assessment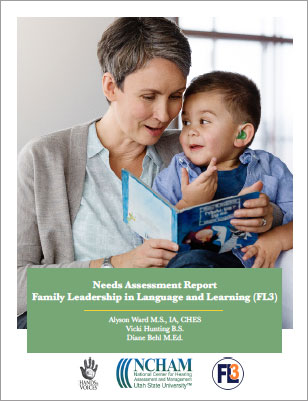 "How do you know what families need or want?" This is a question that has come up time and again over the years at Hands & Voices (H&V).  For me, the answer has always been pretty simple.  We know what families need/want, because we ARE families at H&V.  Our entire staff at H&V Headquarters are parents, and/or Deaf individuals and we represent and work with literally 1000's of parents and parent leaders from around the globe every year. However, it is one thing to have an innate, and subjective sense of what our collective voices say and believe on any given topic and quantifying that understanding through objective and thorough measurements with the national needs assessment. That is why we are so pleased to be able to present this report to reflect on the voices of not only parents who are currently in the 'system' receiving supports, but also the parent leaders, parent support organizations, and EHDI system stakeholders who contribute to the success of families navigating their way towards ensuring the goal of children reaching their full potential.  We hope that this information can effectively guide and support your efforts so that ultimately the systems of care in place for families and their children, will be appropriate and effective!
– Janet DesGeorges, Executive Director of Hands & Voices
Hands & Voices recently completed a comprehensive national needs assessment to guide its work on meeting the objectives of the newly formed Family Leadership in Language and Learning (FL3) program, a cooperative agreement with the Health Resources and Services Administration (HRSA) in 2017. The needs assessment was designed to take an in-depth look at the needs of families with children who are deaf or hard of hearing (D/HH), family-based support organizations, and state/territory EHDI programs in their ability to work in partnership to improve the EHDI service system. Hands & Voices contracted with the National Center for Hearing Assessment and Management (NCHAM) at Utah State University to conduct these efforts.
Information learned from this needs assessment will be used by the FL3 to build a portfolio of trainings, educational materials, resources, etc., to support family partnership, engagement, and leadership within the EHDI system; and to inform and shape support, family education, and mentorship activities. The needs assessment results provide input to the following questions from three target populations; parents with children who are D/HH age 0-6, family-based organizations, and EHDI Coordinators):
What types of support did families receive or wish they had when their child was diagnosed as deaf or hard of hearing?
What do family support organizations need from the FL3 program to better serve families who have a child who is D/HH?
What are the supports EHDI programs need for effective family engagement in ensuring the EHDI programs meet the needs of all families of children who are or are at risk for being D/HH?
Access the full report
Link to full Press Release
Webinar: https://handsandvoices.org/fl3/media/webinar-8-2-2018-NeedsAssessment.html
Vol. 4, Iss. 3 (2019) of The Journal of Early Hearing Detection and Intervention (JEHDI) was released in December 2019. In this issue included an article titled Supporting Families of a Deaf or Hard of Hearing Child: Key Findings from a National Needs Assessment, Alyson C. Ward, Vicki Hunting, and Diane D. Behl. This article focuses specifically on the answers to 2 questions from the National Needs Assessment; what types of support did families receive or wish they had received when their child was diagnosed as DHH and what are EHDI programs and FBOs doing to support parents?
Click on this link to download the full article and learn about the Key findings. https://digitalcommons.usu.edu/cgi/viewcontent.cgi?article=1105&context=jehdi.
Recommended Citation
Ward, A. C. Hunting, V. & Behl, D. D. (2019). Supporting Families of a Deaf or Hard of Hearing Child: Key Findings from a National Needs Assessment. Journal of Early Hearing Detection and Intervention, 4(3). DOI: https://doi.org/10.26077/5f99-5346
Retrieved from https://digitalcommons.usu.edu/jehdi/vol4/iss3/6