A Perfect World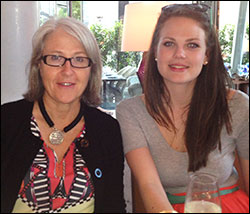 Ann and Bonny
Leeanne Seaver: Among the many amazing people I've met along this road is Ann Porter. Ann and her husband Bruce have three lovely daughters; Bonny, her youngest, deaf. Ann started Aussie Deaf Kids when Bonnie was little for the same kinds of reasons Hands & Voices exists. Her nonprofit organization now provides online support to families all across her nation and beyond on her website
www.aussiedeafkids.org.au and her twitterfeed:
twitter.com/aussiedeafkids.
Her work has inspired and helped thousands--so much so that she was awarded the Member of the Order of Australia, the highest honor the Australia government bestows on extraordinary citizens.
I invited Ann to be guest columnist for this issue, and now you'll see why:
Letter to Myself
Dear Me,
You will quite often think about the night you lay on that fold-out bed next to Bonny in hospital. She was seven years old. The registrar had stood in the corridor earlier that day, telling us that Bonny would probably have no hearing when she woke up tomorrow. I often think about him. Did he have any idea that he was delivering a message to us that would change our lives forever? Yet he said this in the hospital corridor. Why? Was he uncomfortable giving us the bad news? Was he in a hurry to see his next patient? Was our experience so common that it was okay to tell us in the corridor? Whatever the reason, I still think it was inexcusable to afford us no opportunity for dignity in our distress. If I knew who he was, I would make an appointment and go and talk to him. I wonder if he would pause to reflect how his casual chat had changed our lives.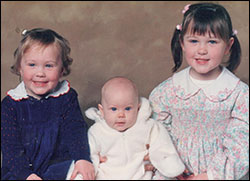 Lauren, Ally and Bonny Porter, 1989
But I lay in that bed and wild thoughts ran through my head. I thought how Bonny loved to dance and sing. Her whole life seemed 'wired for sound' as Cliff Richard used to sing. Our family loved to sing loudly together in the car. The girls loved all the old musicals. They watched them ad nauseum. How would Bonny enjoy these shared moments with her sisters and friends again? I spent half my life driving to and from the dance school with the three girls. She was starring in the end of year ballet concert. How was I going to tell her that she wasn't going to be dancing anymore? Would she find someone in her future to love her as much as we did? And most bizarrely, how on earth was I going to tell her about periods? How did you tell a deaf child about these things that were challenging enough for parents to share with a hearing child?
I want to let you know that Bonny will continue to dance and sing. You will cry when she comes on stage for that first ballet concert. It was impossible to know that she couldn't hear the music. You will be so proud of her. And as she adjusts to her new hearing aid and learning to listen again, she will continue to dance--about ten more years! She still loves music. She has an innate rhythm in her body. Her deafness will not change this.
You will have so many funny moments around singing, though. Somehow her musical taste tends to be rooted in the sixties to eighties where, once she knows the words, she is able to sing along - loudly and joyfully, but so out of tune! We have had so many car trips where we sing along to Abba or Queen and break out in hysterics as she drones away. She knows she is hopeless but loves the music and the beat and singing and making me laugh.
And you will tell her about periods, just like you told the other girls. You will talk to her about lots of intimate things and she will listen and absorb and question and discuss-- just like the other girls. She will tilt her head slightly in that way that has become so natural for her so she can see your lips and hear you. She will get cranky with you saying you are a bad mother for a deaf girl if you talk to her without facing her. We have lots of laughs about these things. She hams it up to get you going – like her grandmother in that way. Humour has been one of Bonny's great assets: She has a great sense of the absurd and laughs regularly at herself. She will be great fun to have around.
Going back to school after her time in hospital was a complete nightmare for you. The only thing that had changed from the end of term three to the start of term four was that she could no longer hear. They seemed to think her needs were completely different. The school said they couldn't meet her needs. But what Bonny wanted and needed was to be with her friends-- to play. And her friends adjusted quickly to the new reality. She still sees Tess, Adele and Anne Marie when they are in town. They meet for dinner. They enjoy a glass of wine together. They talk about their jobs, the people in their lives and their plans for the future. She will have some wonderful friends and as she gets older she will learn to socialise in ways that she enjoys: quiet places, one on one chats and deep, meaningful conversations. She talks so much! She also treasures her Kindle. Her reading tastes won't be the same as yours but she will share some great cookbooks with you.
Bonny will change schools twice - at the end of Year 3 and again at the end of Year 9. So many sleepless nights wondering if you had made the right decision! Would she make friends? Would she be happy? They were great decisions. Well done. Each time, Bonny's needs had changed and each time, the new school met her needs. She had an uncanny knack of engaging with teachers to her advantage. The schools will be fabulous in nurturing her independence, her sense of humour and her thoughtful leadership. The move to a co- ed school from the all girls school will stress you out. She will be so annoyed how you kept on harping about her using her FM. You will laugh together when she tells you how the boys have an instant affinity to that FM. They will race down the corridor with it and whisper sweet nothings and other crude 16-year-old boy humor to her via the FM. She will find this so funny and will continue to be a great hearing aid and FM user. You don't need to worry about that.
She is so comfortable with her hearing aid that when she was getting her last hearing aid from Australian Hearing before losing eligibility, she decided to go for a bright pink one. She rarely takes the FM shoe off her aid. She never tries to hide her hearing aid. It has become as much a part of her as earrings or glasses. She will have complete meltdowns when her hearing aid or FM is not working. She really will not be a happy chappy without them. She hates not being able to hear. She will like the feeling of her hearing aid mould in her ear. She will feel a bit naked without it. And it is a great way of scratching her ear. She will jiggle the mould in her ear and that will become a mannerism that will become familiar and endearing for you.
She will be 16 when a boy truly loves her. You will love him too. For the first time, he will show you that someone will love Bonny and care for her as much as you do. They will love each other completely for about two years and will remain great friends. Bonny will write a letter for that boy when the new love of his life applies for a visa. She will show you that she has an enormous heart. She will never say anything bad about someone. Even when people walk over her, she won't be nasty to them. She will tell you that it is not who she is and she needs to be true to herself. She is one strong young woman.
But she will also feel lonely. She will be so excited to go to university like Ally. Your heart will break when she tells you how she went back to her room to study because all her friends were in one room, music was blaring and she just couldn't understand what anyone was saying. She will feel alone in a sea of friends. Lauren and Ally will also feet lonely at times. They will also call crying about friendships and lost loves but for some reason, Bonny's loneliness or broken heart will shatter you a bit more. And yet, she will probably be the most resilient of your children. She will talk things over with you but work out how to deal with things herself, in her own way. She will need a listening ear but not solutions.
You will constantly wonder whether things she does are because she is deaf or because she is Bonny. In the early days, you always think it is because she can't hear. But then you will come to realise that it is mostly because of who she is.
There will be lots and ups and downs over the years but the same is true with all the girls. None of our lives are a picnic. Bonny will be especially good at picking herself up. She will understand her physical and emotional needs more than you ever will and you will be blown away with some of the things she says and does to have her needs met. She will be wise. Astute. An amazing negotiator. You really will not need to worry about her on that score! Relax. She will be a great advocate for herself. She will stand up for her rights and be sure her needs are met.
And Bonny will have another talent that you will not see as a child at all. You will call her the carbohydrate kid for years but, unfathomably, she will suddenly love food and cooking. She will be praised for her great palate. She will love being busy busy busy and she will love being a chef. She will be on TV and she will travel following her dream.
If that registrar had told you she would be deaf the next day and be a chef when she grew up, you would have railed at this. You want all your children to go to university. You would have thought that being deaf would mean that she would not go to university but become a chef - terrible hours, ordinary pay. But you will learn that she is a chef, not because she is deaf and couldn't go to university but because she hated university and loves being a chef. It ticks so many of the boxes for the vision she has for her life.
So while you will worry and have many sleepless nights, the child lying in the bed next to you will grow to be one incredible young woman. I promise you.
From Ann,
Your 50 something self.
Note: Bonny had a unilateral hearing loss that progressed to a profound bilateral loss suddenly when she as seven years old. Lauren and Ally are her older sisters.