In a Perfect World:
The Powhiri at Ruamoko Marae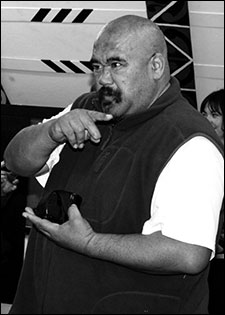 From the front of the red-pillared room Michael stomps the floor, his massive form sending vibrations we all feel from the feet upward. He brings to mind a Sumo wrestler but he is in fact the sacred Maori elder at this temple, this Marae (Maori for "meeting place"). The Ruamoko Marae in Waitekere honors the Maori god of earthquakes, aptly enough. Michael looks like I would imagine the God of Earthquakes should look, and I'm finding his western name totally out of sync to his ancient face. I surmise that he must have a really good name-sign because he is profoundly deaf and he sure can shake the earth.
The ritualized welcome, the Powhiri, has begun, and we will soon be part of the "whanau" or extended family of this temple. My daughter, Makena, a very old soul at age 14, and I stand humbly, very aware that we are the wide-eyed Anglos who are actually out of place but nonetheless wholeheartedly accepted into this community. The faces around us are a multi-cultural feast of Maori, Tongan, Samoan, and Cook Islanders, seasoned with a few Asians, Indians and Anglos…your typical Kiwi potlatch or "haukai".
The Ruamoko Marae is the only Deaf Maori temple in all of New Zealand. It's small, as temples go, but deeply symbolic of both Maori and Deaf cultures. The earthquake theme has special meaning to the Turi (Maori for deaf) because stomping the floor to get attention, and drawing meaning from vibrations of all kinds is second-nature to them. Michael gives a nice speech after acknowledging the ancestors, and a special mention of those recently departed from the group. He shares a combination of Maori ritual with Deaf cultural values so we get a good primer in both. For our part of the ceremony, Makena and I have had to learn a song in Maori and En-Zed, the sign language of New Zealand. We will sing and sign it at the appointed time after our male spokesman, David Foster, delivers a speech in Maori and En-Zed to introduce us. Maori is a very male-dominated society, so David, my friend and the CEO of the Kelston Deaf Education Centre where I'll be working for the next three months, sits in front of us during the ceremony as our representative. Our introduction includes, among other things, a Garmin-like locational poem David chants that will help the Maori understand where on the earth we've come from…it goes like this:
Ko Rocky Mountains toku maunga
Ko Michigan toku moana
Ko Mississippi toku awa
Ko Carthage toku wahi
Ko Leeanne Seaver tana ingoa
Katahi ano te waka rererangi ka tau mai
Ki te hari mae ko Leeanne
Ki te awhina, kit e hapai I tenei wananga
When it's time for us to sing, Makena and I will stand with David and hope all we remember what we've been practicing feverishly since learning our part just the day before.
We cannot enter the Marae until summoned by Michael blowing long and loudly on a conch shell, then we walk solemnly towards the temple as two Maori women sing the traditional poroporoaki—one from the dais at the Marae inviting us to enter, the other walking with us and announcing our coming.
Finally, near the end, we begin…
Ehara I te mea (not the thing)
No naianei te aroha (of recent times, is love)
No nga tupuna (but by the ancestors it has been)
Tuku iho, tuku Iho (passed down, passed down)
Simple enough but full of meaning in this land where the sense of whanau is so important…whanau both living and no longer among us having contributed to the love that creates a sense of belonging to a community. We feel lucky…blessed. And I think we did ok with the song; David says we did great. As yet, there have been no requests for us to take the show on the road, so I think we'll stick with our original agenda, which was for me to write a national public relations/communications campaign for the Kelston Deaf Education Centre, which is about to take its considerable show on the road. The Powhiri concludes with a very tender display of our new bond as whanau through the touching of noses and breathing of each other's air. In the days that followed, as I started work with many of the people whose faces I first saw and noses I touched with my own at the Powhiri, I felt the happy realization that it is impossible to pass a colleague in the hall without a kind word and warm feeling after you've inhaled a little bit of each other's wairua. Wonder if I can import this back to the states…
© Leeanne Seaver 9/2011