Professionals at H&V:
What is Their Role?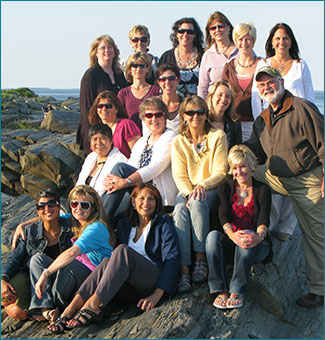 The H&V Parent/Professional Mix
In the Summer 2012 issue of The Hands & Voices Communicator, the article "Hands & Voices Asks: What Does it Mean to be Parent-Driven?" explored different ideas from within our leadership at Hands & Voices (H&V) about what it means to be a parent-driven entity in both philosophy and practical application. Tony Ronco, H&V HQ Board member and father of a deaf child aptly stated in the article, "Parent-driven helps assure other parents that there is a level of trust, affinity, & alignment concerning the level of commitment, importance and shape that a professional service, resource or initiative will take."
What about the professionals at Hands & Voices? What is their role in a 'parent-driven' organization?
Hands & Voices has a nice representation of members and leaders within the organization that wear the 'professional' hat. Commitment from professionals to see healthy chapters thrive and grow has been a marker of the growth and sustainability of the organization. From its earliest days, Hands & Voices supporters encompassed both parents and professionals who had a passion for supporting families in an unbiased manner. The very first Board of Directors in the flagship chapter of Colorado Families for Hands & Voices was comprised of both parents and professionals. Those early professionals didn't just lend moral support, but worked hard, opened doors to funding, (even before we had 'proven ourselves' because they believed so strongly in the necessity of a parent-driven model), and stood side-by-side in establishing and maintaining that first chapter.
As H&V began to expand in other states where parents occasionally struggled to take the lead in developing chapters, we began to understand the need to articulate and train what 'parent-driven leadership' really looked like on a day-to-day basis. In a collaborative relationship, the professionals in our organization also have a role in leadership and support. How do you 'let the parents lead' and still contribute in a meaningful way? The following are some statements that articulate some of the value and contributions that professionals have brought to the organization.
Professionals in the field often have a clearer understanding than parents (at least in the beginning) of the 'systemic' players, politics, and opportunities for funding, and can bring practical direction and their professional contacts to the table.
Professionals bring critical knowledge and expertise in their professional roles that helps drive the direction of the kinds of support that families need - working beautifully in conjunction with the 'where the rubber meets the road' mindset of parent led thinking.
Professionals participating in the chapter at the board level often bring known credibility and respect to a chapter from the professional community as parent leadership is emerging.
Professionals who participate with H&V tend to do so because of the passion they feel for families and children. This creates common ground and we begin to lose sight of our 'titles' (i.e. parent or professional) as we all unite around that common theme.
Practically speaking, what a board member does in the day to day life of a chapter might look the same whether that board member is a parent or a professional: event planning and implementation, fundraising, grant writing, governance/policy planning-- all the 'scope of work' shared among board members.
When parent leadership is lacking or in need of development in a chapter, the role of the professional can be to mentor the parents into leadership roles, sometimes taking on a more active role until the parents can take on a stronger leadership role themselves, as long as the professional can truly 'let go' when it's time.
Recently, a professional member of one chapter in the beginning stages of organization building wrote to H&V HQ and said,
"…I know and strongly believe that H & V be parent driven and directed. As I do want to continue supporting the growth and development, I am looking for your advice /guidance with respect to the roles of professionals in the various Hands & Voices chapters...Thank you for any information that you can provide."
This email was sent out to several H&V Leaders, who share the 'professional' hat and replied with the following,
"There is something special that happens when a group of people can come together for a single purpose and leave their roles at the door. The thing I appreciate most about my H&V involvement is the exposure to a diversity of experiences that are all equally honored in every discussion. I think everyone I know would agree that attitude and mindset are more important than position in the organization. Yet, the knowledge and experiences that each person in the organization contributes, are at the root of H&V's success. We know that organizations that are exclusive to parents or to professionals are not as strong, rational, or influential as the H&V model. Willing collaboration is key."

"I have to say that I have been thinking a lot lately about our chapter and what roles we all play. A very specific example for our chapter is that we have agreed on needing to host regular events. While I do this kind of thing for a living, I have had to hold back from jumping in. I'm not a mother of a child who is deaf/hh so while I am happy to help coordinate activities, I really don't feel it's my role to lead this charge. It's hard to hold back though, sometimes, and I don't think I'm alone in trying to figure our when/where to jump in. There is a little bit of give and take especially when new parents/professionals join the fray, trying to figure out each other's strengths and what makes us tick. It's not always easy, but it is SO worth it. I love, love, love working with my "partners in crime."
Hands & Voices would not be where it is today without the leadership and skill set of the professionals in our organization. As the organization has grown to over 50 chapters worldwide, the culture of partnership between parents and professionals is one of the most powerful features that will carry us into the next decade.
Editor's note: if you are a professional, we encourage you to join Hands & Voices today. Click on the map at www.handsandvoices.org to join your local chapter.