An ENT's Perspective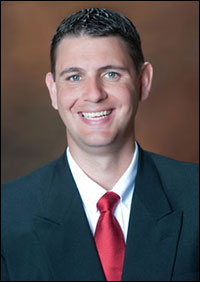 Eric Jaryszak, MD, Ph.D.

As I think about my career as a pediatric otolaryngologist, nothing gives me greater satisfaction or reward than treating children with hearing loss. This has been a keen focus of my practice since finishing my training. My perspective on this is quite different than the children and families' with whom I deal on a daily basis.

My introduction to children with hearing loss came early in my career. In medical school I had the pleasure of training under one of the forefathers of cochlear implantation, Dr. Richard Miyamoto, at Riley Children's Hospital and Indiana University School of Medicine. It was there that I was first introduced to the potential of cochlear implantation and where my desire for taking care of patients who could benefit from this began.

I was fortunate to continue my training under Dr. Patrick Antonelli at the University of Florida School of Medicine where the volume and breadth of pathology that presented itself significantly enhanced my understanding of hearing loss and ear disorders. At that point in time, I knew I would make otology a part of my career in the future. That was a very difficult decision, however, because as time went on, I knew that caring for children was going to be essential to my happiness in practice in the future.

Fortunately, subspecializing in pediatric otolaryngology has afforded me that opportunity to practice both otology and care for children at the same time. It is really that mix that has driven me to do what I do today.

Caring for children who have hearing loss demands much from the physician caring for them. The diagnosis of a cause for the hearing loss is challenging, but frequently the children are not old enough to understand what exactly is happening, and, for that matter, to know any different. With the advent of the newborn hearing screening program, we are able to identify these children earlier, so during our initial consultation, many times parents have not been able to see any effect on their child at all.

Unless the families have experienced early onset hearing loss, this can become difficult to explain. Unless there is an obvious syndromic association with hearing loss, frequently we are also unable to tell why these children are deaf or hard of hearing. The most important part of early identification though is early intervention. Should a family choose, it is imperative to treat as early as possible to give the best possible chance at speech and language development.

As a physician, sometimes I get caught up in doing everything in my power to help, when in some cases families just need reassurance. The choice to communicate with spoken word, or through a visual language, or some combination of speech and sign is a choice for each family to make. As a physician, it is my job to provide an unbiased opinion on treatment options and expected outcomes and not direct how patient care should proceed. It is important to realize, though, whatever the communication choice for a child, a visit to an otolaryngologist is still important as there can be many other body systems which may be affected in addition to hearing which need to be evaluated. These other aspects, which will not change the management of your child's hearing loss, can be life-changing or even life-saving and should be looked into further.

The greatest satisfaction as a physician comes with "fixing" a problem. With hearing loss, our clinical "fixes" may come in several forms and may not be traditional "fixes" but methods to improve a child's ability to hear. Prescribing hearing aids, reconstructing hearing bones, draining fluid from the ears, implanting a titanium implant for a bone anchored hearing aid, and placing a cochlear implant are all things that I do to improve hearing. Some are more straightforward than others, but all of these procedures are aimed at allowing a patient to hear and communicate more easily. In particular, cochlear implants have become a passion of mine along the way. I have developed and setup the first multidisciplinary cochlear implant team in Orlando, Florida at the Arnold Palmer Hospital for Children. Each component of our team is essential to the decision making process that goes into determining candidacy for cochlear implantation and seeing the patients through their entire care plan. Our team is comprised of myself, the surgeon, pediatric audiologists, pediatric speech and language pathologists, licensed clinical social workers, child life specialists, hospital administrators, and operating room staff. We work together to facilitate all aspects of the patient's care from the workup, to the surgery, and through the rehabilitation.

The world of cochlear implantation and the research and technology behind them is ever changing. In about 50 years we have gone from single channel devices to multiple channel devices to virtual channels. The processing capability has expanded exponentially. In the past 18 months, 1200 articles have been published about cochlear implants. This is overwhelming both for myself and for the families considering this treatment option. What I try to remind my families is that despite all of these articles and devices and options, not all goals and outcomes are going to be the same. This is one of the most difficult parts of my job is trying to help a family understand that their child's expected outcome may be different than what they see in photos and videos online and in the marketing materials put out by cochlear implant companies.

I think this is where education of families comes into play. My team does an excellent job working with families to set expectations and make decisions. One thing parents need to know is that there are no wrong decisions. There are no "typical cases." Each child is different with a unique history and set of circumstances. It is important for parents to know that we as doctors take this as seriously as they do. Our job, however, is to make sure parents are well informed and then to help them execute the plan that they decide upon. We cannot, however, make the decision for them and this is sometimes difficult to understand. Just realize that as your doctor, I will take as long as is needed to reach a decision that everyone (you, your child, and our team) is comfortable with. There are no wrong questions and certainly no "stupid" questions.

As a parent, no matter what treatment option you are considering, you should ask whatever questions you need to have answered before making a decision. These are big decisions to be making, but know that you are not alone. Use your team – the doctors, audiologists, and the therapists – work together and stay focused on the end game: what's best for YOUR child.

As a surgeon, I have to say that one one of the most gratifying things I have experienced in my career is seeing young patients return after going further down the road after seeking hearing aids or implants who can respond to me, talk to me, or sing me a song. "Expectations may not and shouldn't be the same for each child with all their unique histories and gifts. Families of a deaf or hard of hearing child deserve to have everything explained--both the possibilities and the pitfalls—and to have the team on board with your plan and your child.