Parent Resources
"Get involved! Meet other families, meet your Deaf/HH community, learn all the resources available to you. Do not be afraid to ask questions, put yourself out there. Do not be afraid to get involved. Embrace your child's deafness, explore all your options, and try it all. There is not a one size fits all, your child will lead the way and your job is follow and support."
- Najwa Ghattas, parent
Understanding Hearing and Hearing Devices
Knowing how the ear works and how our child's hearing system functions differently as compared to children with typical hearing is helpful so we can explain our child's needs to others. This website has a lot of good basic information for families who are just starting out.:
https://www.Babyhearing.org
For example: The Audiogram
The audiogram shows the quietest level of sound your baby can hear. The graph shows each frequency (pitch) from very low to very high across the top. Along the side of the chart, sound volume, increases from very soft to very loud (measured in decibels). Loudness or intensity increases lower in the chart. Responses for the left ear are recorded as "X", and responses for the right ear as O.
See more about the audiogram and normal, mild, moderate, and severe hearing configurations at https://www.babyhearing.org/professional-resources/Documents/WhatIsAnAudiogram.pdf, used with permission.
Audiology 101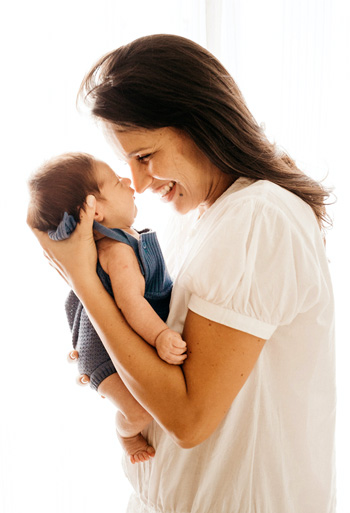 Audiology 101: An Introduction to Audiology for Nonaudiologists, Chapter 5 of the NCHAM eBook, by Terry Foust, Au.D., FAAA, CC-SLP/A; & Jeff Hoffman, MS, CCC-A
Parents of young children who are identified as deaf or hard of hearing (d/hh) are suddenly thrust into a world of new concepts and a bewildering array of terms. What is a decibel or hertz? What does sensorineural mean? Is a moderate hearing loss one to be concerned about since it is only moderate? What is a tympanogram or a cochlear implant? These are just a few of the many questions we may have as parents of a child who has been identified as d/hh. The purpose of this chapter is to provide basic answers to these and other important questions about the field of audiology. Available at infanthearing.org.
Download PDF
"Questions to Ask My Child's Audiologist" and Other Brochures
If you are a parent just learning your child is deaf or hard of hearing, you may benefit from advice for what questions to ask the many professionals you meet. You can choose from several brochures such as "Questions to Ask Your Child's Audiologist" or "Questions to Ask Your Child's Medical Professional" to help you think of important issues to raise and clarifications to make. The brochures include space to jot down answers and make notes. Available from https://www.cdc.gov/
Download PDF
Page for other Questions to Ask…Speech Language Pathologist (SLP), Ear/Nose/Throat (ENT) doctor, Early Interventionists, Genetics Team, Medical Professional
https://www.cdc.gov/ncbddd/hearingloss/freematerials.html
"When I first found out our baby was deaf, I felt like the "handbook" they gave me was written in a foreign language, pages were torn out and upside down."
What to Ask the Cochlear Implant (CI) Team
Some children who are deaf and hard of hearing do not benefit from wearing hearing aids and may benefit from having a cochlear implant. If this is an option you and your family would like to consider, this document can help you think of the questions to ask.
Download PDF
Decision Guide to Communication Choices for Parents of Children who are Deaf and Hard of Hearing
This pamphlet guides you and your family through the steps in gathering and reviewing information and deciding which communication method(s) to use with your child who is deaf or hard of hearing. Available from cdc.gov
Download PDF
"You are your child's premier champion. You are there for their triumphs as well as their struggles. As you laud their successes, remember to also allow space for their pains. Allow space for your pain. An honest perspective in your journey will make it all the more beautiful and worthwhile."
Making a Plan for Your Child: IFSP Considerations for Children who are Deaf and Hard of Hearing
This resource is a 6-page downloadable booklet providing information and advice for you and your family to develop an Individualized Family Service Plan (IFSP) with the education professionals working with your child who is deaf or hard of hearing. Available at cdc.gov
Download PDF
Parent Guide to JCIH Recommendations
"How do we know if our child is receiving the right services?"
Many parents ask this question when they first get the news that their child is deaf or hard of hearing (d/hh) and are setting up needed services for the first time. We know because we, as parents, asked these same questions in the beginning of our own journeys. Caretakers just starting out need so much information. This document offers guidelines so that you and your child will receive the most appropriate services, no matter where you live.
https://www.handsandvoices.org/resources/jcih-parent-guide.html
"We will teach you all that we know. You will teach us more than we know.' I reread these lines from a welcoming prayer I had written to my first granddaughter for her birth, as I tucked in both of my precious little girls this past New Year's Eve."
CMV: What Families Want to Know
Congenital Cytomegalovirus, or cCMV, is the most common viral infection, and the leading non-genetic cause of hearing loss, that infants are born with in the United States. Every pregnant woman is at risk of acquiring cCMV, but only 9% of women know about it. To learn more about prevention, screening, intervention, vaccine development and more, visit the CMV Foundation: https://www.nationalcmv.org/
Families may have questions about testing for cCMV. This resource provides answers to commonly asked questions. Available in both English and Spanish.
Download English PDF
Descargar en Espanol
Guide for Understanding Best Practice Recommendations for Children with Unilateral Hearing Loss (UHL)
The purpose of this document is to facilitate effective communication between families and providers, develop a shared understanding of the impact of UHL, and generate a mutually acceptable evaluation and management plan based on the unique and individualized needs of your child and family.
https://www.handsandvoices.org/resources/uhl-considerations/
Hands & Voices
For more perspectives about the family journey, resources, connections to other parents, communication and language development, early intervention/educational services, explore other pages of this Hands & Voices website.
https://www.handsandvoices.org